---
Archive: October 2008
Links-a-Plenty!
Fred's MySpace Page
Hembeck.com Contents Page
Who Fred?
It's HERE!!!!
Read about my book!!!!!


October 31st, 2008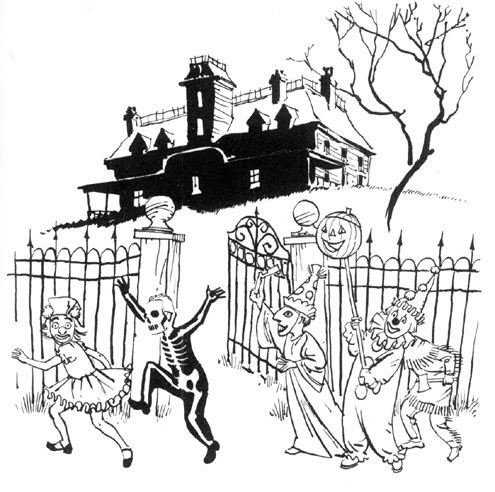 HAPPY HALLOWEEN!!!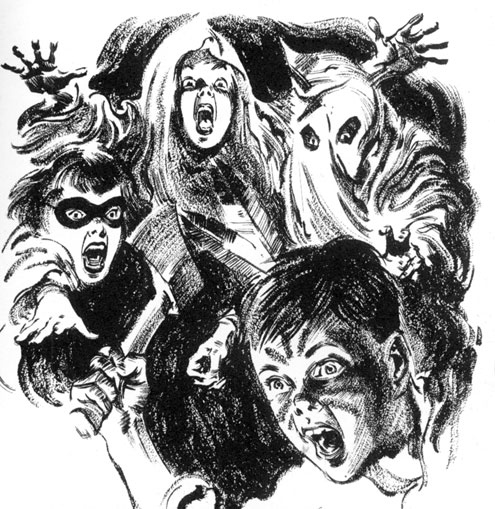 Above artwork courtesy of the vastly underrated Reed Crandall from the third issue of the EC Picto-Fiction mag, TERROR ILLUSTRATED.

And for a dip into one of my very own past Octobers, if you haven't read it before, here's a link to a story I told way back in 2003 about my most memorable Halloween party experience!!

Have a Spook-tacular day, fiends!!
October 25th, 2008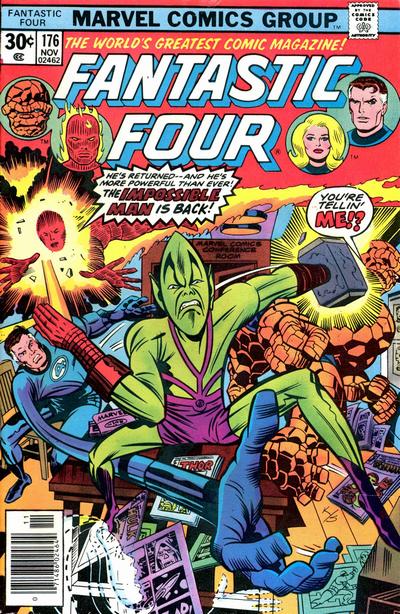 While a vast majority of the comics that I retain the rosiest glow of nostalgia for are the ones picked up in my teen (and pre-teen) years, there ARE a handful of books purchased at the ripe old age of, say, 23, that I have only the warmest of feelings for.

Like, fer instance, FANTASTIC FOUR#176, published back in the summer of 1976.

Hey, how could I NOT love it--just look at that wonderfully wacky Jack Kirby/Joe Sinnott cover!!

Friends, what you had lurking beneath that swell illo by the man who helped launch the line over a decade earlier was second generation Marvel fun at its very best!! Astoundingly, this marked only the second ever appearance (save for a last panel teaser in the previous issue) of the Impossible Man, last seen in FANTASTIC FOUR #11, thirteen years earlier! And with Lee and Kirby's quirkiest creation on hand, who better to join him than Stan and Jack themselves--along with Len Wein, Archie Goodwin, John Verpoorten, John Romita, and practically the entire Bicentennial Bullpen, not the least of which would include the tale's writer and artist, Roy Thomas and George Perez!! The whole thing was delightfully goofy fun, produced with a knowing wink to hard-core Marvel fans while still working as an in-continuity Fantastic Four adventure for the casual reader. A whole story featuring real-life comic-book people interacting with not-quite-as-real super-heroes--like I said, HOW could I possibly NOT love this comic??...

(Y'know, a little over a year later, Cartoon Fred was "born', and though it never consciously occurred to me until I pondered writing this very piece that this issue of the FF could've been an influence on my two-dimensional doppelganger, well, gee, who knows?...)

Another reader with fond memories of Roy and George's Marvelous Adventure is a fellow by the name of Mick Herkner. Mick contacted me a while back, commissioning me to do my own off-kilter version of the cover for him. Why this particular cover? Well, as he explained...

It was the issue that marked the return of the Impossible Man and more importantly (to me anyways) it was also the first Fantastic Four comic that I ever bought. This was the book that not only made the Fantastic Four my favorite comic, but made me a lifelong comics fan as well.

Mick went on to recount some of the background provided within...

In the letters page, Roy Thomas wrote an essay and credited Jack Kirby for making the issue so memorable.

To sum it up, Roy asked Jack to draw a cover with Impy "hosing the Human Torch and hammering the Thing." Jack sent the cover back a few days later with Impy's hands shaped like Iron Man's glove and Thor's hammer. Roy was so inspired by Jack's cover that he asked George Perez to draw the unfinished parts of the book using Kirby's idea of the Impossible Man utilizing the various super-powers of the Marvel Heroes. So I guess that even though I started buying comics in the mid-seventies, Jack Kirby was the man responsible for my love of comics. (though George Perez's art helped to seal the deal)

Join the club, Mick--and thanks for the assignment! I was thrilled to have the opportunity to redraw such a beloved cover...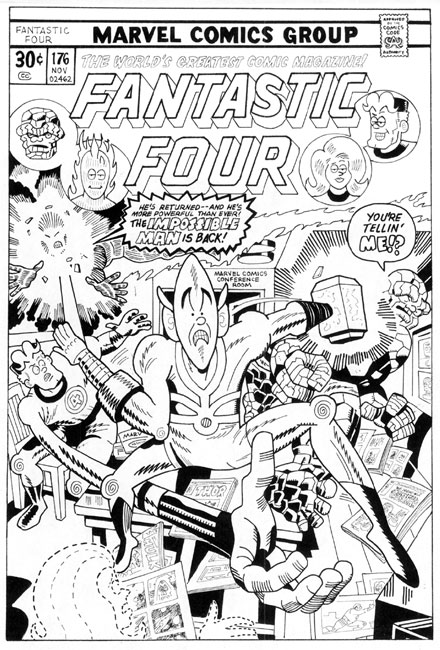 Mick then took it upon himself to recolor my regurgitated illustration, mimicking the original hues as precisely as humanly possible, and if you click the above image, you can view the results (as well as a larger B&W version).

It's not the real McCoy, true enough, but if ever there was an edition of FANTASTIC FOUR #176 published on the planet Poppup, well, I'd like to think it looked a little like the version concocted by Mick and me!! Good job, sir!!
October 23rd, 2008
Last night, I received a very interesting email. It was from Noah Smith (of the Baggy Pants and Bravado blog, and who, I always like to note, attended nearby Vassar College at roughly the same time daughter Julie was enrolled a few short miles away at Vassar Road Elementary School...), with this intriguing subject line,

I haven't been paying too much attention to the election...

Once I opened it up, Noah went on to say...

... can you tell me why it's a problem that Obama used to work with Dick Ayers?

I mean, I prefer Joe Sinnott and Chic Stone as inkers for Kirby, but Ayers was good, too. At least he wasn't palling around with Vinnie Colletta ...

If ever an email called for a rimshot, this was the one--my friends, a smiley face just ain't gonna cut it!! Thanks for the laffs about Washington, Mr. Smith!!

October 21st, 2008
Regular readers are likely well aware that I've been known to redo classic comic-book covers in my own quirky style on a commission basis. What you DON'T know (mainly cuz I've never mentioned it before) is that occasionally, the recipients of said aforementioned hand drawn artifacts take it upon themselves to head directly for their Photoshop programs to color up a scan--and then send it right back to ME!!

Well, I've decided it's well past time that I share some of these pics with you folks, so if you click on the drawing below, you'll find not only a larger black and white version, but a masterful recreation of the original color scheme of this 1984 Walt Simonson gem provided me by the fellow who commissioned this redo in the first place, Gerry Turnbull!!

Swell job, Gerry--and, oh yeah, big time congrats to you and wife Fiona on the recent birth of your first child, Jessica, back on October 10th! My advice is to take some time away from the computer and get your sleep while you can, sir!!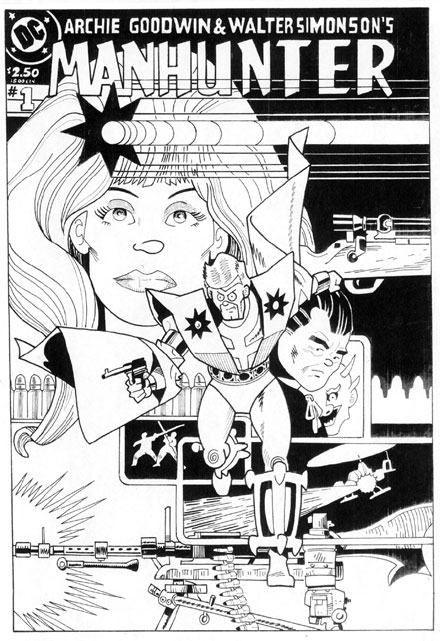 October 20th, 2008
Just a little heads up to any of you in the vicinity of of Albany's capitol district this coming Sunday, October 26th. I'll be one of the guests at Albany Comic Con 2, being held at the Holiday Inn on Wolf Road, commencing at 10am. And it won't just be me--also scheduled to appear are Herb Trimpe, Joe Sinnott, Joe Staton, Ron Marz, Todd Dezago, Bill Anderson, and Matt Smith! Should be quite a day, so stop by if you're so inclined--I'll be chatting, sketching, and hawking copies of my book!!

Speaking of which--and pray tell, what is the internet for if not shameless self-promotion?--I know it's been awhile since I last reminded you, but be assured, we still have plenty of copies to sell, with or without a personally commissioned illo (click the icon at the top of this page for all the pertinent details).

If you're curious as to what some of the original drawings I've already provided look like, well, I've found a couple of examples online for you to take a peek at. Todd Franklin--he of the way swell Neato Coolville weblog--shares his Spider-Man illo with the web (which, considering it's Spidey, is only appropriate...), and Noah Smith--of the bouncy Baggy Pants and Bravado blog--posts his Superman pic (with some bonus material drawn from Noah's laff-laden stand-up act). So that's the kind of pictorial wonders yours truly provides folks who pony up a couple extra bucks when purchasing my tome!

Lastly, here's a short review from the long-time, nigh-legendary, comics fan, Gary Brown, which he published in his apa-zine, IBID, a short time back. Gary doesn't have a web-presence (unlike, say, Spider-Man--haw haw, well, THAT gag sure got old fast, didn't it??...), but he gave me permission to reprint it here if I felt the need to do so. Well, I'll admit, it's kinda cheesy to run such a flattering piece about myself on my very own site, but hey--I'm the guy with my name emblazoned in big ol' large bright red letters on the cover of the book, ain't I? So, out with the false modesty, and on with the review...

THE NEARLY COMPLETE ESSENTIAL HEMBECK ARCHIVES OMNIBUS, Words and artwork by Fred Hembeck; Image Comics; $24.99.

If you think the title of this all-purpose collection of Fred Hembeck cartoons is hefty, just pick up the 912-page book and you'll realize the long name is appropriate. It can double as both a tribute to Hembeck's delightful humor and also be used as a nifty barbell to keep those pecks in shape (going for the cheap joke here, folks).

But truth is, you can never get enough of Fred Hembeck's wonderful view of the comic-book universe. There aren't many four-color characters who have escaped being part of Hembeck's world. In fact, they probably are lining up right now to be next. And this book is filled with them — from the famous to the obscure. Hembeck's tales range from probing the mind of Superman to a roll in the hay with Black Cat (HEY FANBOYS, there's a wardrobe malfunction in this story!!! GOOD GIRL ART!!!)

I guess calling Hembeck "wacky" isn't quite accurate, although it might be a description that he would relish. This book is filled with his tales of collecting comics as a young boy and dealing with the hobby as an adult. It also contains some touching tributes to the characters and creators who have made this hobby so much fun. More importantly, it engages the reader in some serious discussion of how comic books affect all of us — sometimes ending with an on-the-money punch line that can leave you laughing for hours and other times giving up thoughtful reflection on life itself.

And to be sure, every character in this book, from Hembeck himself to Spider-Man, is knot kneed with circles on the kneecap. It's the Hembeck trademark.

My favorites here are the Dateline:@!!?# one-pagers from the Comic Buyers Guide, and his faithful cover recreations. However, some of the text-heavy Datelines need one's utmost concentration to follow the smaller type here (my only complaint).

Included in the more recent gems is the cover Fred did for Ibid featuring TV Detective Roy Raymond getting the brush-off by the Justice League of America (Ibid #225, March 2004, for all you historians).

Folks, this IS a terrific collection and will give you hours of enjoyment. Don't approach it as a book you need to read from cover to cover in one sitting, but rather have fun going through it a little bit at a time. It'll leave you laughing, feeling closer to the comic books we love and read, and most certainly appreciating the immense talent Fred Hembeck shares with us through his pen.

Thanks, Gary--much appreciated!

See you in Albany. folks!!
October 19th, 2008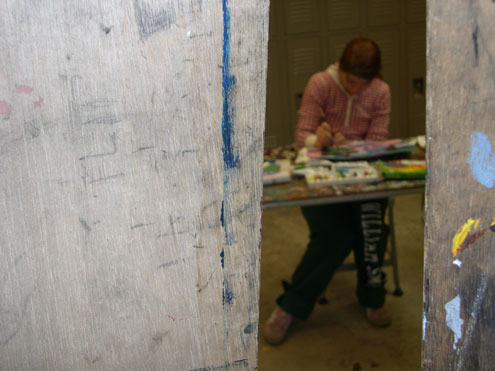 A few weeks back, Lynn and I drove up scenic Route 17 through upstate New York to visit our daughter Julie during Hobart and William Smith College's specially designated Parent's Weekend. This was the first time we'd set our eyes on freshman Julie in over a month (though, thanks to the miracle of generous cell phones calling plans, we'd spoken with her nearly every day since she'd left--how can we MISS you if you won't shut up, huh??...) (...just kidding, kiddo...), and it was a welcome reunion--even if it was delayed somewhat due to it being her very first day working a part-time job at the campus food service facility (mmm--food service...).

Happily, she appears to be adjusting to her new situation nicely, and seems quite enthusiastic about her classes--both her physics and studio art courses (her double major) (that's Julie above putting some finishing touches on an assignment amid all the easels scattered about in the art building as we watched). Geneva is a small but tremendously scenic town, and having the campus adjacent to Seneca Lake, one of the Finger Lakes, only amps that distinction upwards. Here's me and my girlie, at the conclusion of a short walk towards the end of a long pier...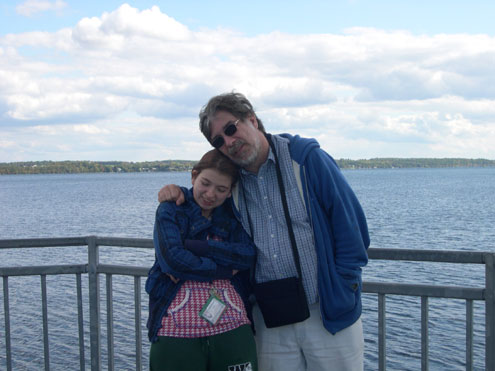 We spent a very pleasant couple of days wandering around the campus, the outer environs, and even a really spiffy antique store (where, yes, they had comics--and stacks and stacks of old LPs for fifty cents a shot!). Julie's boyfriend, Alec, spent Friday and Saturday with us (by the way, happy belated anniversary to the pair, who, this past October 14th, celebrated one full year of dating--hey, who SAID it wouldn't last?...), though he was unable to accompany us on Sunday due to work commitments. So he missed Julie on the rocks (hold the twist of lemon, bartender)...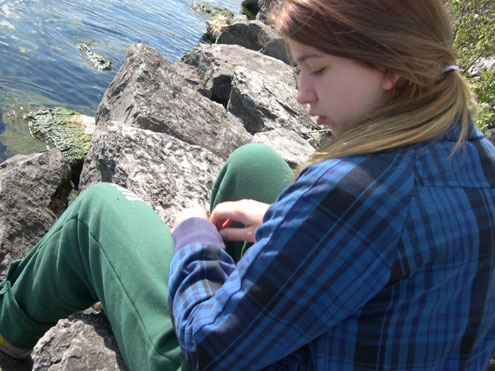 He WAS with us when we all stopped back at the bed and breakfast just outside of town where we were staying. As newbies to the Parent's Weekend phenomenon, Lynn and I weren't aware of how fast the hotel rooms in Geneva disappear during the annual event, and had to scrounge around to lodging. Luckily, the placed we stayed didn't cost anymore than the Marriot, and was utterly delightful! It too was right on the lake (the opposite side from the college), and it came not only with Jake, a dog who eagerly played fetch with Julie and Alec, but the most awesome bathroom I'd ever been lucky enough to call my own--however temporarily--on a venture away from home! Y'see, our B&B only had four suites, and as we were the last to sign up, our room was the one with the separate bathroom down the hall. Now, this may sound a little inconvenient, but with a large sign on the door that clearly marked it for "Room One Only" (that'd be us), it was large and spacious--the same size as our actual room, in fact, if not slightly larger--but besides a glitzy decorated tub, shower, toilet, and such, it ALSO included a urinal!! Which, for some reason, impressed me to no end...

(Might as well point out here that, with handy dandy digital camera in hand, I took--with Lynn's assistance--261 photos that weekend!! If you're more than mildly curious, you can head on over to Lynn's Facebook page where you can see nearly 100 of them (though apparently--and unfortunately--you have be a Facebook member to gain proper access), including canine Jake and the aforementioned wondrous urinal! Here's the link for Saturday, and here's the link for Sunday, part two...)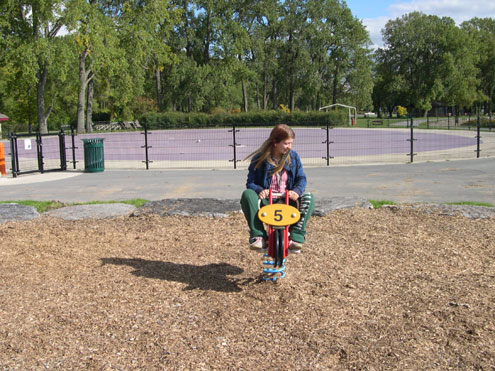 We spent the last few hours of our visit at a mostly deserted state park, where college girl Julie--not to mention yours truly--had fun reverting to the activities of earlier days....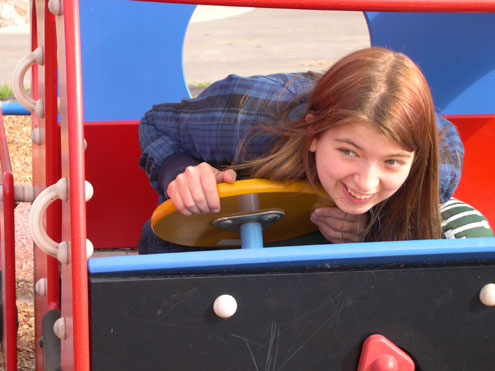 Julie's had her driver's license for almost two years now, but somehow, as good as she is at driving, it's behind THIS sort of wheel that she seems most suited! (Though I sure coulda used her help on the long drive home later that evening--I belated discovered that zipping along between 60 and 70 miles per hour on winding highway roads for hours at a time in the dark of night is no longer the comfortable activity it was back in the days when I was making the ten plus hour trip home to Long Island from my college in Buffalo).

All in all, it was grand fun! See you at Thanksgiving, kiddo!!
October 18th, 2008
The third annual Wonder Woman Day is almost upon us.

And you don't have to be in Portland Oregon or Flemington New Jersey on October 26th to bid on any of the over 150 pieces of Amazon-oriented art assembled for charity--check the link above for all the details.

When organizer Andy Mangels came a-calling for contributions this time around, I decided it might be fun to pay tribute to the Amazon-era that I myself had grown up reading, starting--confusingly enough--with WONDER WOMAN #124

Why so confusing? Well, picture this--I'm eight years old and I'd only just begun trying to absorb all the fanciful facts concerning the costumed crimefighters I'd oh so recently devoted my attentions to, and then I pick up THIS comic!! It featured not only Wonder Woman herself, but also Wonder Girl (Wonder Woman as a teen), Wonder Tot (Wonder Woman as, um, a tot) and her--their--mother, Queen Hippolyta--ALL CO-EXISTING TOGETHER AT THE EXACT SAME TIME IN ONE ADVENTURE!!

It was downright impossible, and in fact that's what the story was called :"The Impossible Day"! And in case you didn't get the point, writer-editor Bob Kanigher had the characters continually--and unsubtly--making that self-same observation!! I'm telling you, as a Wonder Woman newbie, it made virtually NO sense to me--and subsequent issues under Kanigher's skewed stewardship weren't much better, but still, I kept buying. Hey, the Princess was a member of the Justice League of America, and that counted for SOMETHING, y'know?...

So, as my auction offering, I decided to throw together the cast of "The Impossible Day"--as well as a few of Wonder Girl's sillier suitors, Mer-boy and Bird-boy--and team them up on a tableau you can view right now over in our Across the Page Gallery!

Next year, Egg Fu!

October 6th, 2008
First off, let me state the obvious:

Mort Drucker I'm not.

Still, there ARE a few caricatures I feel I possess the requisite ability to pull off. Heading up that oh-so-short list would be Ed Asner in his "Lou Grant" persona, but inasmuch as the demand for drawings of beloved characters featured on the "Mary Tyler Moore Show" is currently totally nonexistent, I instead decided to take on another celebrity-centric commission that I felt warily comfortable attempting:

Ladies and gents, I give you Bob Dylan Across The Decades, now and forever playing in our Across the Page Gallery!

That hair, those outfits, and (yup) that nose--I figured those elements alone would give me decent enough odds to come up with something quasi-recognizable and hopefully be to the liking of the uber-Bob fan whose brainchild this was, Joe Hollon (can I call you Joe?...).

While I've had my own intermittent periods of being a Dylan-devotee, those days are largely several decades behind me. "Blonde on Blonde" and "Highway 61" remain two of my very favorite, most oft played albums, though--even if the critically lauded trio of discs he's released in recent years have sat largely ignored in my CD rack, more curiosities than anything else. Still, I've always been fascinated by the man's iconic nature, even if it reached its zenith over forty years ago now. Hey, you've gotta admire the fact that he's still out there, entertaining and surprising fans like Joe (and, a few years back, yours truly) on an almost nightly basis. The fact that his band once jammed on the sitcom, "Dharma and Greg", and later, the man himself did TV commercials for "Victoria's Secret", are just two comparatively recent examples that the Bobster hasn't lost his ability to perplex!!

(And here's a personal anecdote to wrap things up with: when Dylan suffered the near fatal motorcycle crash that drove him into seclusion at the height of his fame back in 1966, it occurred on Zena Road in Woodstock NY--

THE VERY SAME WINDING ROAD MY WIFE LYNN AND HER FAMILY LIVED ON FOR MANY YEARS, DATING BACK TO THE EARLY SIXTIES!!!

For all we know, Bob may've had to swerve to avoid hitting Lynn's mom coming out onto the road from their steep driveway!! Sure, there's no evidence to support my little theory, but hey, it COULDA happened that way, y'know?...)

Next up: Englebert Humperdinck Across the Page? Or maybe Mandy Patinkin?....