Fred Hembeck's
Across the Page Picture Gallery,
Page One
---
Across The Page Gallery Page Two
Acoss The Page Gallery Sales Page
Hembeck.com Contents Page
Simply Click On Any Illo To See It At Twice The Size!

Okay, so what exactly IS an Across The Page Illo anyway?

Pretty much what it sounds like, actually--a half dozen or more characters (usually members of the same group or otherwise somehow interrelated) drawn across a 11"x14" piece of two ply Bristol, with the artwork--and a pair of characters--running right off of both the left and right sides of the paper. There's always at least one character hovering in the air, throwing down a lightning bolt-like shadow onto the ground, with a curtain of fine-lined cross-hatching as a backdrop. Maybe most importantly, strictly for fun, I use an even more exaggerated version of my (you should pardon the expression) standard style on the characters de jour! It all started back in late 2007 while doing up some art to sell on eBay, and after a while, I grew to really enjoy the format, so I've decided to devote an entire gallery unto itself for these pieces, rather than simply have them only available in various odd corners of my Fred Sez Blog--hope you dig 'em!

NEW---FOR SALE!! We are now offering several pieces posted on this very page for sale, as well as continuing to take on commissionsl! For details as to what's currently available--or how to go about lining up your own personally conceived commission--please follow this link over to the Across The Page Gallery Sales Page!!
WONDER WOMAN: Kanigher's Kooky and Konfusing Kast!!!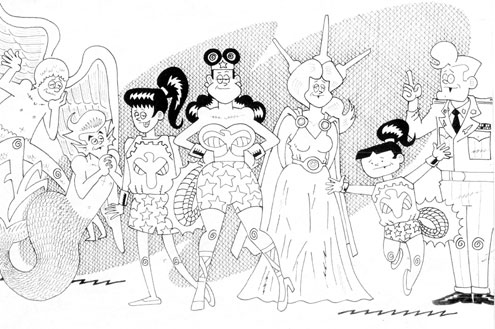 Bird-boy, Mer-boy, Wonder Girl, Wonder Woman, Queen Hippolyta, Wonder Tot, Steve Trevor
DYLAN ACROSS THE DECADES!!!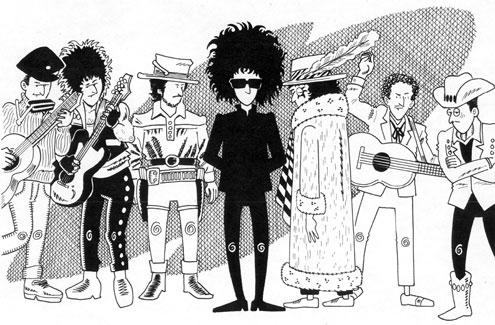 Baby-faced troubadour Bob, eighties glam Bob, as "Pat Garrett and Billy the Kid'"s "Alias" Bob, classic mid-sixties Bob, "Renaldo and Clara"/"Desire" Bob, 1969's Isle of Wight's Concert Bob, current day Never-Ending Tour Bob
POKEMON!!!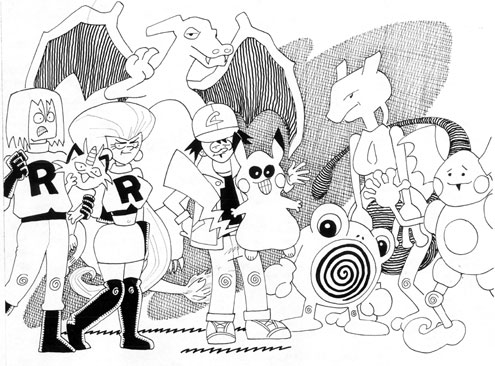 Team Rocket (James, Meowth, Jessie), Charizard, Ash Ketchum, Pikachu, Poliwhirl, Mewtwo, Mr. Mime
SUPER-HIP and BOB HOPE!!!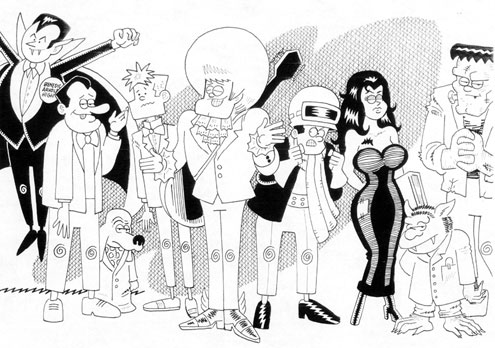 Benedict Arnold High faculty member Dr. Van Pyre, Bob Hope, Harvard Harvard III, Tadwalladar Jutefruice, (alias) Super-Hip, Badger Goldliver, Zombia Ghastly, Professor Von Wolfmann, Coach Franklin Stein
DC BATTLE STARS!!!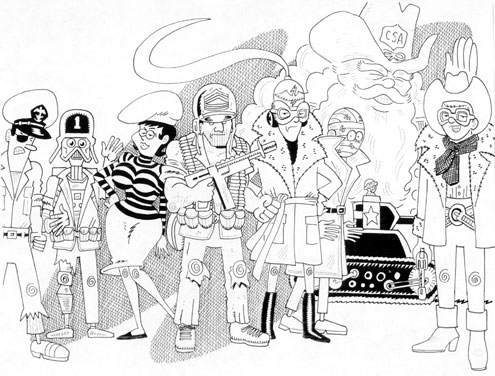 Captain Storm, G.I. Robot, Mlle. Marie, Sgt. Rock, Enemy Ace, The Unknown Soldier, General Jeb Stuart and The Haunted Tank, Steve Savage The Balloon Buster
JSA vs....The ENFORCERS?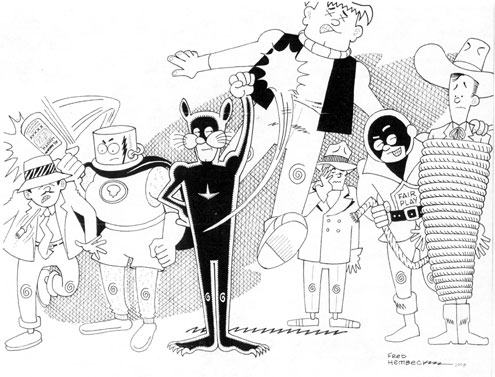 Fancy Dan, Ma Hunkle The Red Tornado, Wildcat, Ox, The Big Man, Mr. Terrific, Montana
SPIDER-MAN vs.
The INJUSTICE SOCIETY of AMERICA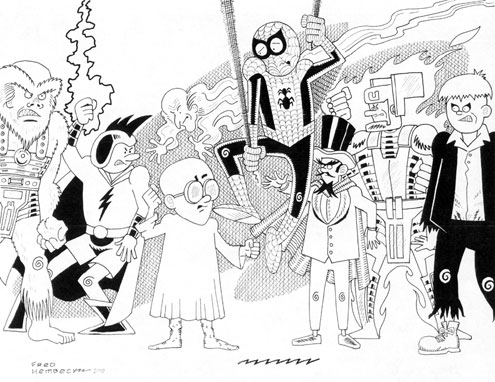 Ultra-Humanite, Deathbolt, Brain Wave, The Mist, Spider-Man, The Wizard, Vulcan, Solomon Grundy
ALPHA FLIGHT!!!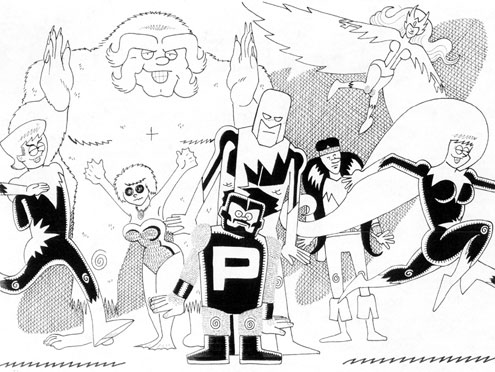 Northstar, Sasquatch, Marrina, Puck, Vindicator, Shaman, Snowbird, Aurora
X-FOES!!!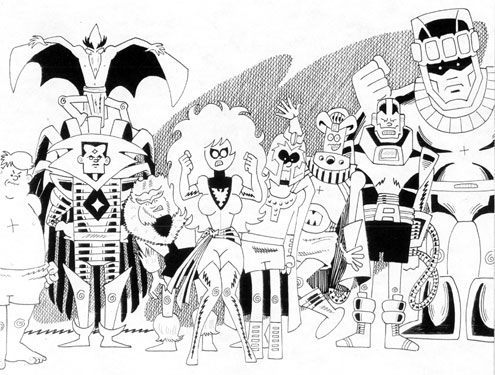 The Blob, Sauron, Mr. Sinister, Sabretooth, Dark Phoenix, Magneto, Mesmero, Apocalypse, a Sentinel
The ALL-NEW X-MEN--AGAIN!!!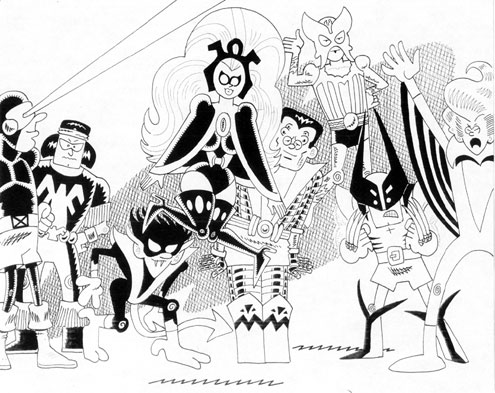 Cyclops, Thunderbird, Nightcrawler, Storm, Colossus, Sunfire, Wolverine, Banshee
TEEN TITANS (and two elders)!!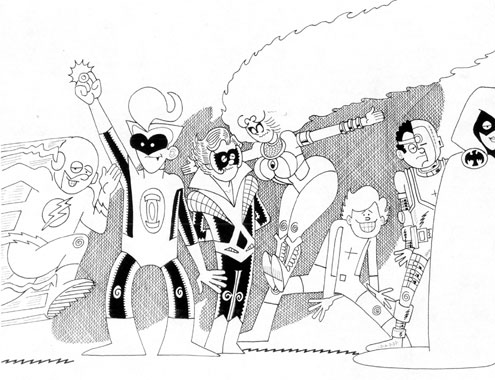 The Flash, Green Lantern, Nightwing, Starfire, Changeling, Cyborg, Raven
WORLD'S FINEST Friends&Foes!!!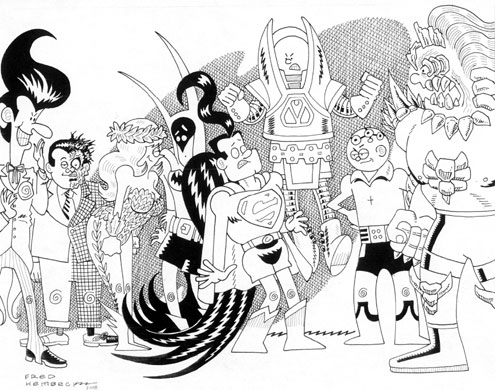 The Joker, Two-Face, Poison Ivy, Batman, Superman, Lex Luthor (in Battlesuit), Brainiac, Doomsday
INJUSTICE GANG of the WORLD!!!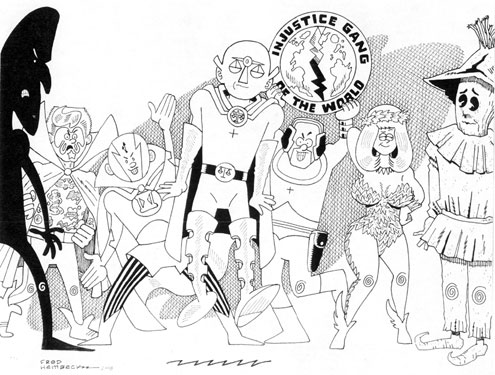 Shadow Thief, Tattoed Man, Chronos, Libra, Mirror Master, Poison Ivy, Scarecrow
JGM Comics' Cast of Crusaders!!!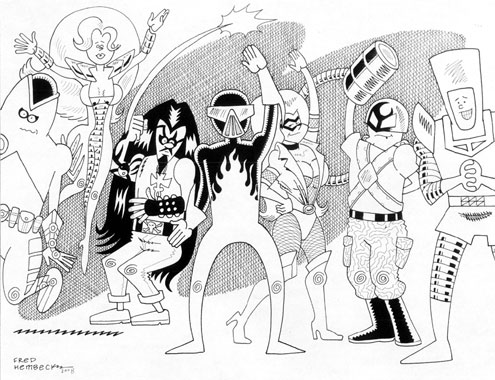 Barrel, Crimson, Ripperman, Shadowflame, Caress, Agent Napalm, Cyberine (and to learn more about Joe Martino's crew, follow this link to the JGM Comics website!)
BATGALS!!!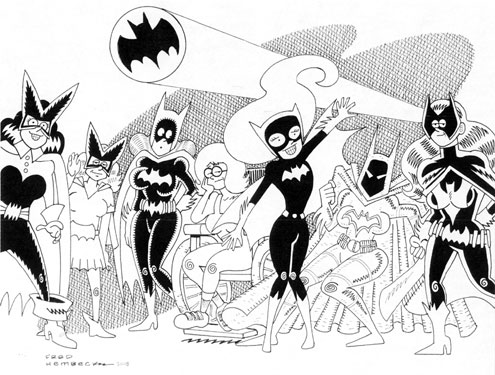 Batwoman (Kathy Kane), Batgirl (Betty Kane), Batgirl (Barbara Gordon), Oracle (Barbara Gordon), Animated Batgirl (Barbara Gordon), Batgirl (Cassandra Cain), Batwoman (Kate Kane)
LEGION of SUPER-HEROES
At Play!!!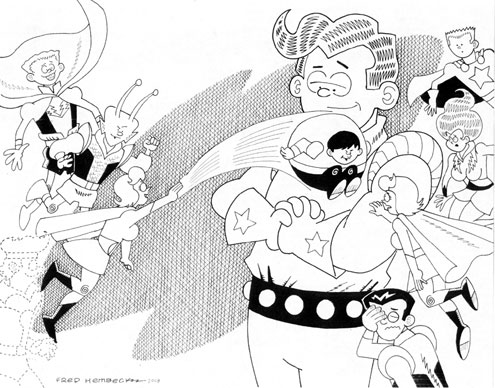 Invisible Kid, Lightning Lad, Chameleon Boy, Duo Damsel one, Bouncing Boy, Colossal Boy, Cosmic Boy, Duo Damsel two, Lightning Lass, Star Boy
SUPERMAN'S Silver Age Family
Take Two!!!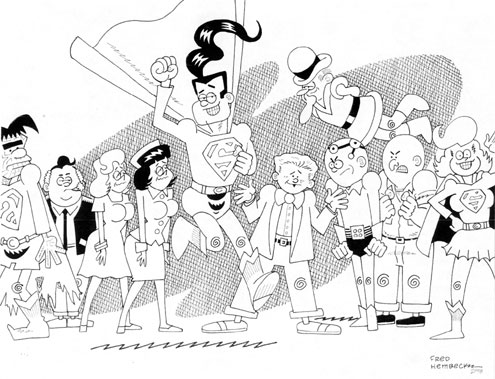 Bizarro, Perry White, Lana Lang, Lois Lane, Superman, Jimmy Olsen, Brainiac,,
Mr. Mxytptlk, Lex Luthor, Supergirl
THE ALL-NEW X-MEN
(Storm Mohawk edition)!!!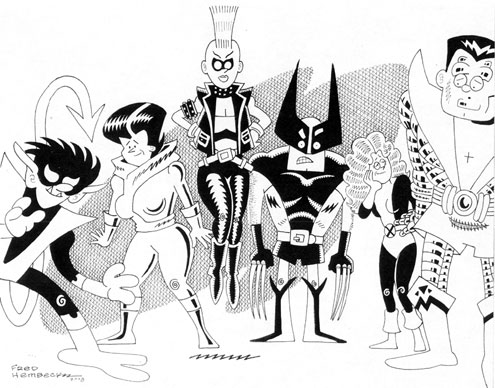 Nightcrawler, Rogue, Storm, Wolverine, Kitty Pryde, Colossus
LEGION of SUPER-HEROES
Take Two!!!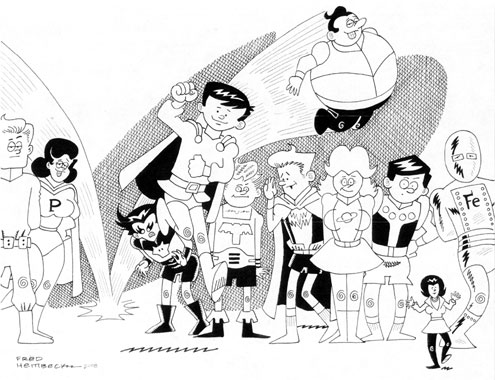 Brainiac 5. Phantom Girl, Timber Wolf, Mon-El, Ultra Boy, Lightning Lad, Saturn Girl, Cosmic Boy, Bouncing Boy, Shrinking Violet, Ferro Lad
Kirby's Fourth World!!!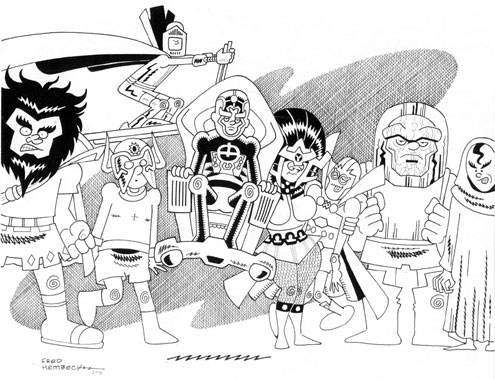 Kalibak, Orion, Black Racer, Metron, Big Barda, Mr. Miracle, Darkseid, Desaad
LULU'S
MOPPET LEAGUE of AMERICA!!!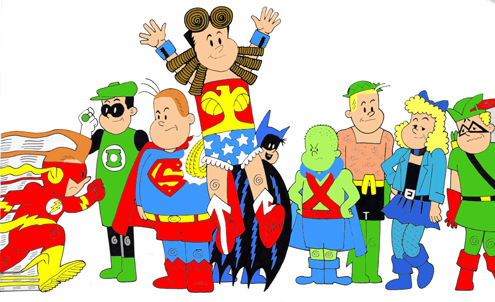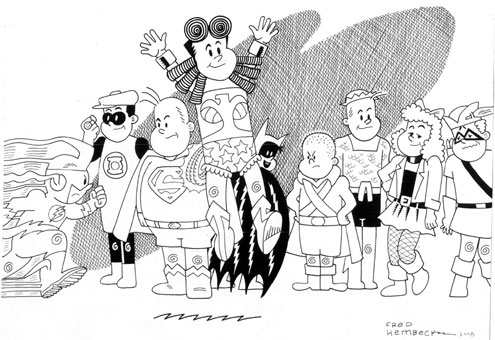 Alvin (Flash), Willy (Green Lantern), Tubby (Superman), Lulu (Wonder Woman), Annie (Batlady), Iggy (Manhunter From Mars), Eddie (Aquaman), Gloria (Black Canary), Wilbur (Green Lantern)
DAREDEVIL
Vs. The EMISSARIES of EVIL!!!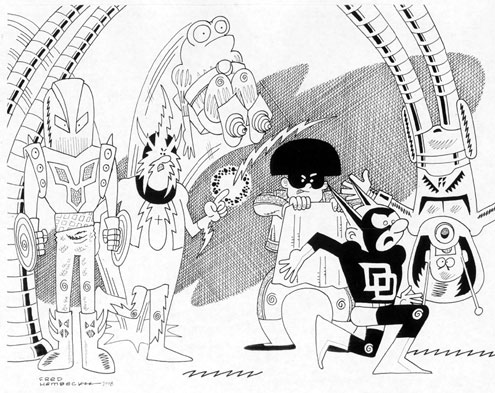 Stiltman, The Gladiator, Electro, Leap Frog, The Matador, Daredevil
The (coff coff) "New" BLACKHAWK Era!!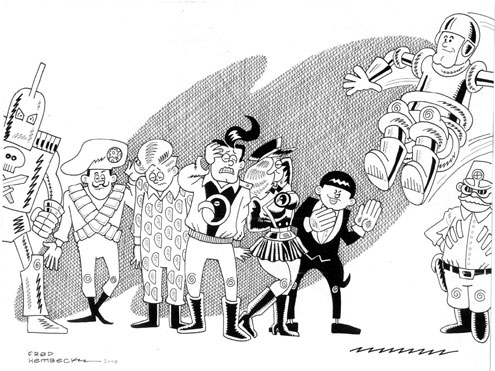 Stanislaus (The Golden Centurion), Andre (M'Sieu Machine), Chuck (The Listener), Blackhawk, Lady Blackhawk, Chop-Chop (Dr. Hands), Olaf (The Leaper), Hendrickson (The Weapons Master)
THE ALL-WINNERS SQUAD!!!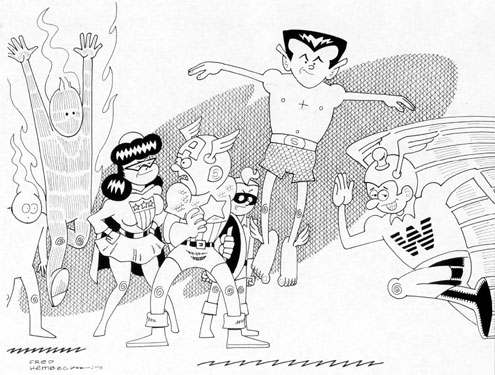 Toro, Human Torch, Miss America, Captain America, Bucky, Prince Namor the Sub-Mariner, The Whizzer
SPIDER-MAN Vs.The Circus of Crime!!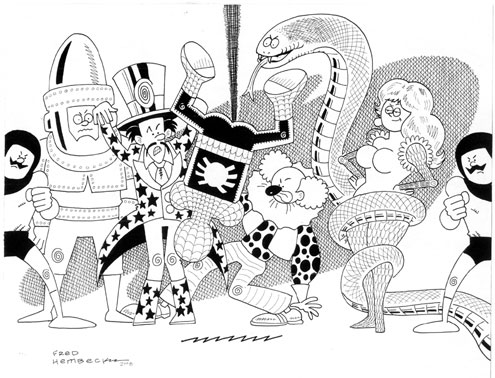 Gambonno One, Cannonball, The Ringmaster, Spider-Man, The Clown, Princess Python, Gambonno Two
MONSTERS!!!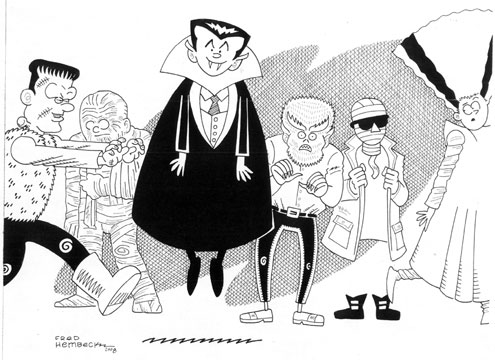 Frankenstein's Monster, The Mummy, Count Dracula, The Wolfman, The Invisible Man, The Bride of Frankenstein
THE INHUMANS!!!
Gorgon, Black Bolt, Triton, Crystal, Karnak, Medusa
KIRBY KREEPS (Marvel Edition) !!!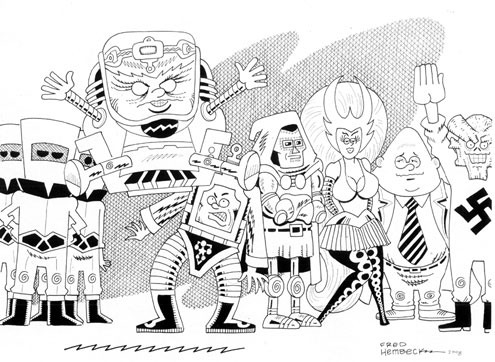 AIM Agents, Modok, Arnim Zola, Dr. Doom, Enchantress, Egghead, Red Skull
THE ALL-NEW X-MEN!!!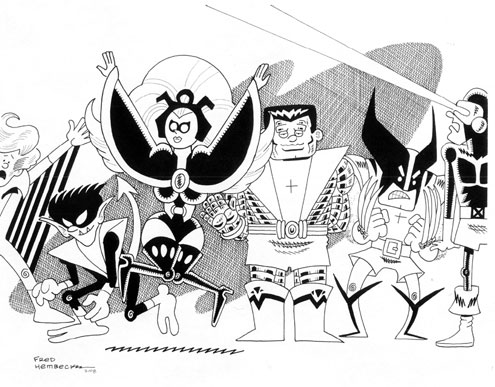 Banshee, Nightcrawler, Storm, Colossus, Wolverine, Cyclops
DR. STRANGE and the Strange Crew!!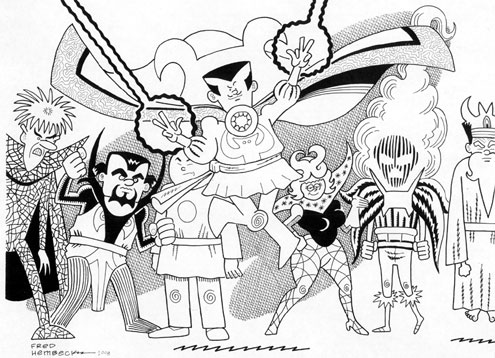 Nightmare, Baron Mordu, Wong, Dr. Strange, Clea, Dormammu, Ancient One
BATMAN's Baddies,Buddies,Beauties!!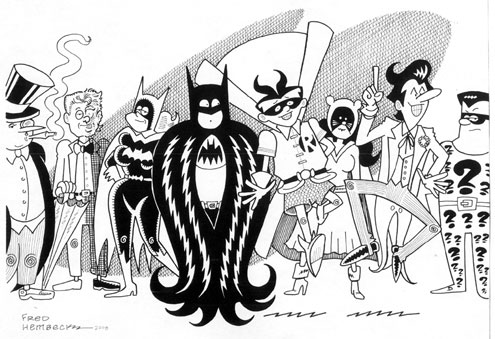 Penguin, Two-Face, Batgirl, Batman, Robin, Catwoman, The Joker, Riddler
MAD Mascots!!!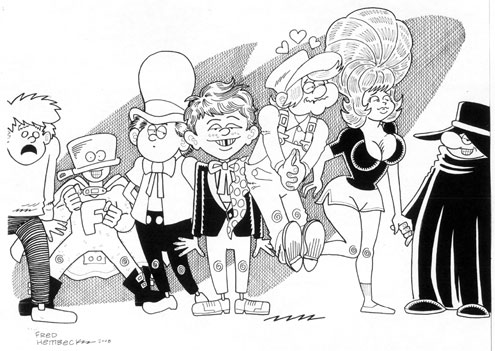 Goodman Beaver (HELP!), Forbush Man (NOT BRAND ECCH!), Huckleberry Fink (SICK), Alfred E. Neuman (MAD), Sylvester P. Smythe (CRACKED), Little Annie Fanny (PLAYBOY),The Nebbish (CRAZY)
T.H.U.N.D.E.R. Agents!!!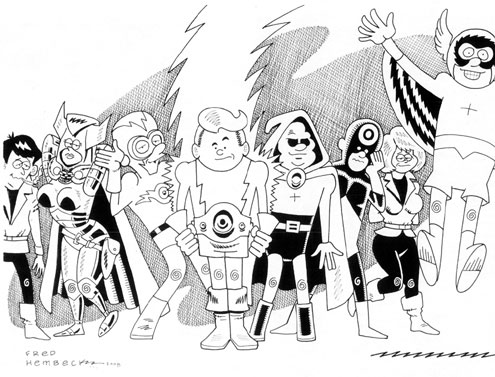 Weed, Iron Maiden, Lightning, Dynamo, NoMan, Menthor, Kitten, Raven
JUSTICE SOCIETY of AMERICA!!!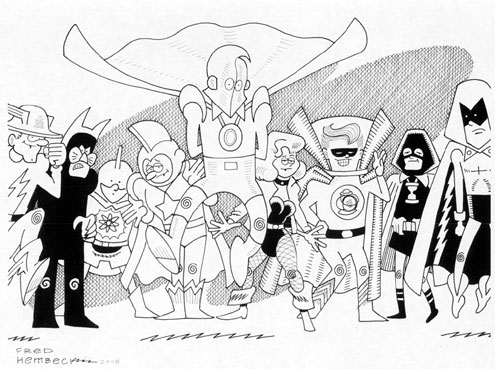 Flash, Wildcat, The Atom, Starman, Dr.Fate, Black Canary, Green Lantern, Hourman, The Spectre
FLASH and FOES!!!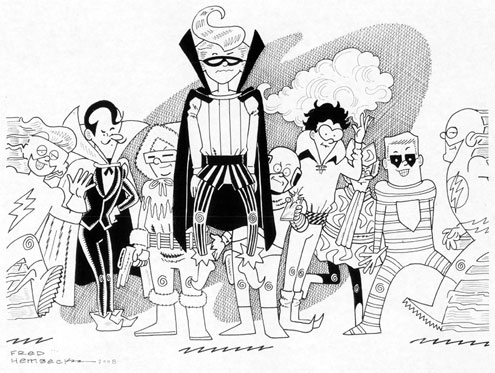 Kid Flash, Abra Kadabra, Captain Cold, The Trickster, Mirror Master, Weather Wizard, Captain Boomerang, The Top, Flash
The Many Faces of JIMMY OLSEN!!!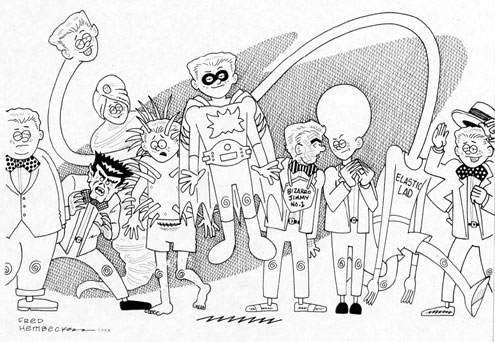 Fat Jimmy, Wolfman Jimmy, Swami Jimmy, Porcupine Jimmy, Flamebird, Bizarro Jimmy, Future Jimmy, Elastic Lad, Octopus Jimmy
WATCHMEN!!!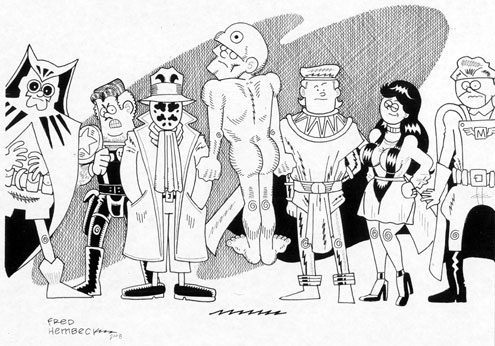 Nite Owl, The Comedian, Rorschach, Dr. Manhattan, Ozymandias, Silk Spectre, Captain Metropolis
GREEN LANTERN,
Corps and Crumbs!!!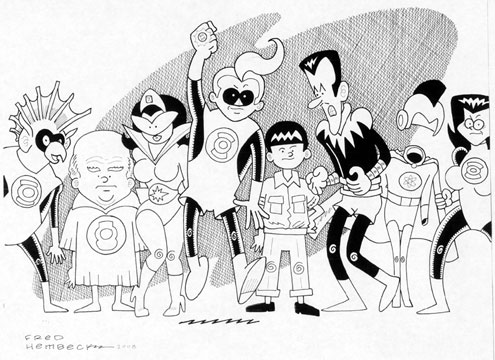 Tomar Re, Guardian of Oa, Star Sapphire, Green Lantern, Pieface, Sinestro, The Invisible Destroyer, Katma Tui
LEGION of SUPER-HEROES, Cockrum Style!!!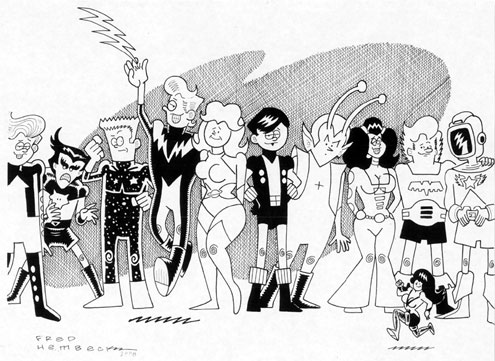 Element Lad, Timber Wolf, Star Boy, Lightning Lad, Saturn Girl, Cosmic Boy, Chameleon Boy, Phantom Girl, Ultra Boy, Shrinking Violet, Wildfire
LEGION of SUPER-HEROES!!!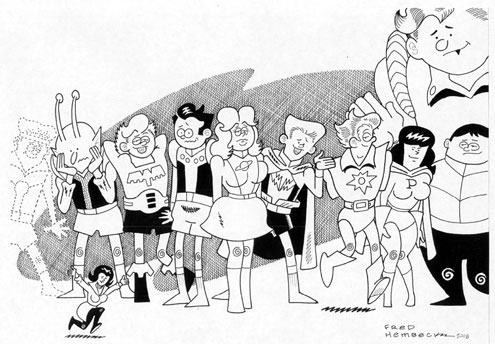 Invisible Kid, Chameleon Boy, Shrinking Violet, Ultra Boy, Cosmic Boy, Saturn Girl, Lightning Lad, Sun Boy, Phantom Girl, Bouncing Boy, Colossal Boy
FANTASTIC FOUR and Associates!!!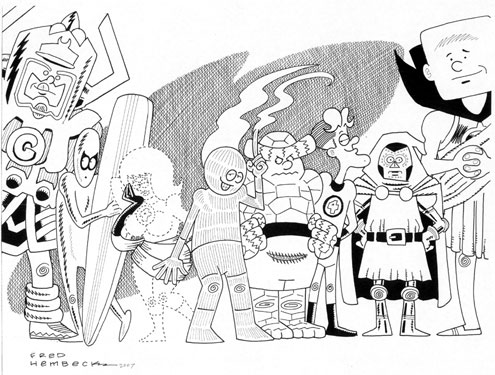 Galactus, Silver Surfer, Invisible Girl, Human Torch, The Thing, Mr. Fantastic, Dr. Doom, The Watcher
SPIDER-MAN and Associates!!!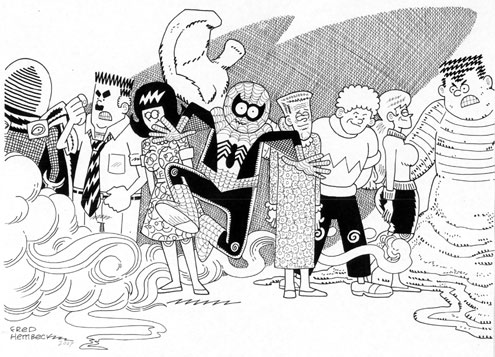 Mysterio, J. Jonah Jameson, Betty Brant, Spider-Man, Aunt May Parker, Flash Thompson, Liz Allen, The Sandman
SUPERMAN'S Silver Age Family!!!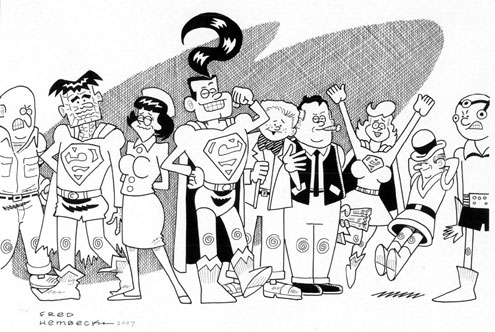 Lex Luthor, Bizarro, Lois Lane, Superman, Jimmy Olsen, Perry White, Supergirl,
Mr. Mxytptlk, Brainiac
The Original X-MEN!!!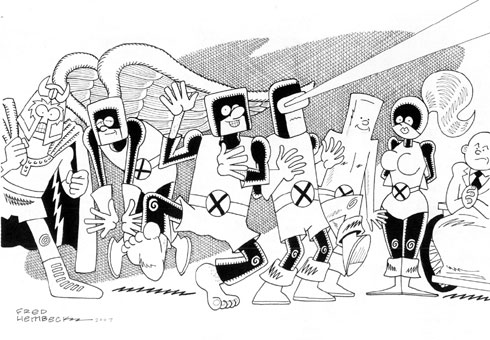 Magneto, Angel, Beast, Cyclops, Iceman, Marvel Girl, Professor X
JUSTICE LEAGUE of AMERICA!!!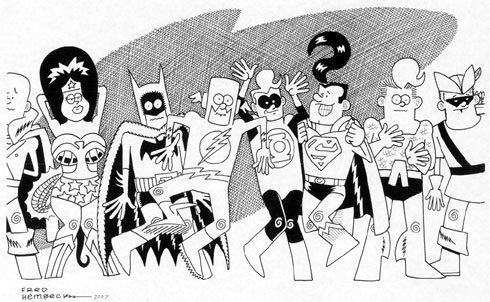 J'onn J'onnz, Manhunter from Mars, Wonder Woman, Batman, Flash, Green Lantern, Superman, Aquaman, Green Arrow
The AVENGERS--Originals, plus!!!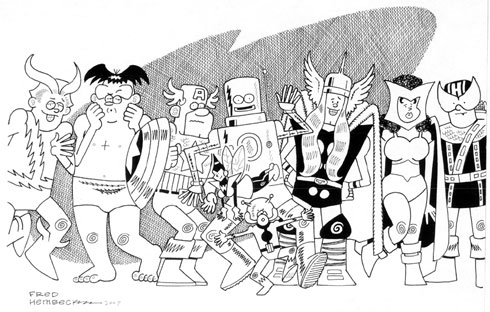 Quicksilver, The Hulk, Captain America, Iron Man, The Wasp, Ant-Man, Thor, Scarlet Witch, Hawkeye