You've noticed the drawing? Uh huh. Look, usually I lovingly redo some scene that's been seared into my brain since back in my beardless days, then blather on and on about it, but that's NOT the case this time (though let's not completely rule out the blathering, okay?). I never laid eyes on this splash page prior to a week before I took pen to paper to reinterpret it. Y'see, aware that I had a surprisingly pleasant time paging through my pile of BLACKHAWK comics in what had to be the first time in three decades while preparing to do do a strip focusing on the Black Knight a while back, my good buddy Rocco Nigro generously loaned me a handful of his issues he knew I didn't own, and it was whilst perusing this bounty of goodies that I stumbled across this positively AMAZING illustration!!

A fairly straightforward scene of Lady Blackhawk smashing a boulder with her super-powered fist while hovering a few feet off the ground on the cover of 1960's BLACKHAWK#151 couldn't POSSIBLY have prepared me for what waited inside! There she was, the beautiful, buxom, golden-tressed angel of the airways, Lady Blackhawk (okay, OKAY, so maybe I had a little CRUSH on her when I was a kid--wanna MAKE something of it?)--ahem, there she was, utilizing her new-found abilities to transport SIX grown men, decked out in their jodhpurs and boots (with one "comedic" Asian stereotype along for the ride as well) across the sea to their enemies lair--ALL the while still wearing nothing more modest than that cute little short leather cheerleader skirt of hers as her crimefighting partners cling tightly to various parts of her oh-so-attractive anatomy!?! Great Caesar's ghost writer--whose perverse notion was THAT?...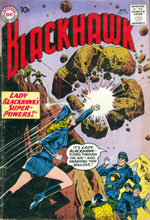 I must tell you, though--my estimation of penciller Dick Dillin (nicely inked, as always, by the NINTH Blackhawk, Chuck Cuidera) went up several notches upon viewing that particular page. For one thing, it's a very good composition, tightly rendered, but geez, can you just IMAGINE the conversation with the editor when Dillin was assigned the script?...

"Listen, Dick, the writer wants you to show Lady Blackhawk carrying seven guys through the air, so they've gotta be holding onto her--well, y'know, her ARMS, her LEGS, around her WAIST, where ever they CAN! Yeah, yeah, I KNOW she's wearing that short skirt--just keep it clean, willya please? We DON'T need the Code breathing down our necks!"

A, um, CHALLENGING task, but one I felt he met. An additional panel of the boys flying Air Zinda within the body of the story wasn't quite as gracefully composed, and several depictions of her SOLO flights called for the judicious use of shadows to maintain good taste. Unfortunately...

The story itself? Nothing special. Lady Blackhawk and a bad guy both gain super powers, they both fight, they both lose super powers, the end.

I'm just ASTOUNDED that somebody somewhere in what was still, for all intents and purposes, the repressive era of the fifties , thought it'd be a jolly fine idea to do a comic book story for the kiddies wherein seven leather-clad guys have their grubby paws ALL OVER a gorgeous blonde in a teensy-weensy skirt--and just WHY, I have to belatedly ask, weren't there MORE stories like it?...

Hey, I realize I'm showing my age, as this wouldn't raise a SINGLE eyebrow these days. We're all familiar how TODAY"S comic-book gals act and dress, but for 1960?...Well, on the original page, all the fellas are trying their gentlemanly best to keep their composure and remain stoic, but inasmuch as this is an ENTIRELY juvenile exercise on my part--yes, I'll admit it--I've, ah, TAMPERED a bit with the crew's facial expressions.

See good old Andre there? The one with the mustache? His standard line of dialog, "Sacred blue!" would've fit the situation nicely, but as for a potential thought balloon? Well, MOST likely he'd be prone to reminiscences of his HOME land. You know, as in "I see Paris, I see France..."?...