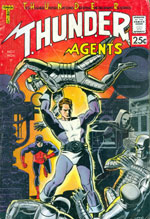 When the first issue of T.H.U.N.D.E.R. AGENTS hit the stands, unannounced, in the fall of 1965, it created a legend that persists to this very day. As one of the oh-so-lucky twelve year olds who greedily scooped up that initial issue fresh from the racks, I can attest to the tremendous impact that comic had.
Two things sold that book--the clever combination of the then-hot spy organization craze with the swiftly developing second wind success of the super-hero. That, and the art of the magnificent Wally Wood.

By 1965, I hadn't yet seen all that much Wood work--a fair amount of both comics and magazine pieces included in a slew of MAD paperback reprints, and a handful of wonderful DAREDEVIL issues was pretty much it--but I was always hungering for more! Finally,here it was! More--a whole LOT more! And while the Woodman didn't delineate that entire first ish all by his lonesome, such recognizable artist as Reed Crandall, Mike Sekowsky, Gil Kane, and George Tuska filled out the book's remaining pages. Not too shabby a line-up, eh?

The individual stories of Dynamo, NoMan, Menthor, and the T.H.U.N.D.E.R. Squad in that double sized premiere edition were all tenuously connected, a touch of continuity Marvel had, by mid-decade, conditioned serious comics readers (hey, are there any other kind?) to expect. Another aspect of the appeal of the Tower Comics flagship title was the very straight forward manner in which they told their stories. Whereas by 1965, Marvel had fallen into a comfortable formula combining over-the-top fisticuffs with long interludes of hyper-emotional soap opera sequences, and DC was still sticking with their true but tired gimmicky puzzle approach to scripts, the T.H.U.N.D.E.R. Agents tales were, by way of contrast, mostly filled with non-stop action, with a few interesting personality quirks thrown in to keep readers interested in the characters. And oh, that artwork...

Yup, we first generation fans have fond, fond memories of the Agents. And apparently, there are enough former fans in positions of power in the comics industry since it seems that every ten years or so, someone somewhere tries to revive the feature. This year, it's DC's turn (who long ago switched their proclivity for gimmickry over to gritty grimness, so watch out...) To celebrate the occasion, they chose to award the T.H.U.N.D.E.R.. Agents their very own Archives collection. Well, before writing this piece, I felt duty bound to break the tome out of it's plastic wrapping and reread that landmark first issue. And so I did...

Guess what? It didn't seem all that great. It's stripped down storytelling may've provided a welcome contrast with what the big two were pushing in the mid-sixties, but taken out of context, it just sort of ...lies there. Maybe later issues improve somewhat--hey, I don't know. I couldn't really say at this point since I haven't had a chance to read 'em recently . But while the concept still seems rock solid and the Wally Wood art is still just as sumptuous as I recall, there's not all that much else screaming "classic!" in that debut issue. Yes, the Reed Crandall NoMan origin is beautifully illustrated, but the Sekowsky story is certainly nothing special. And Gil Kane's Menthor premiere? Supplemented by several pages pencilled by George Tuska and inked entirely (and unhappily) by Mike Esposito, brandishing the artwork on this hastily cobbled tale as being "mediocre" would be charitable. True, a vast majority of the work Gil Kane would produce for Tower (usually inked by Wood or else his very own self) would prove to be indisputably of the top-notch variety. This just wasn't part of that tote. Not even close...

And one other question I've had for years--whatever happened to Dr. Dunn's body? The wizened scientist is wheeled into his special cabinet, his mind is summarily transferred into one of NoMan's many android bodies, and that's the LAST we see or hear of the old fella!?! Huh? Is he dead? Is his body in some sort of stasis? Did they wind up storing him next to Ted Williams? What?!? Maybe the latest update will answer those questions--and y'know, considering the kind of areas comics aren't at all shy about exploring these days, maybe I'll regret even ASKING?!?...