Late in 1981, the folks who published STARLOG magazine attempted to duplicate the success they'd had covering the burgeoning field of cinematic science-fiction and fantasy with a new endeavor aimed exclusively at examining the suddenly thriving funny-book field, COMICS SCENE. Edited by Bob Greenberger, this newsstand distributed periodical featured rotating guest columnists such as John Byrne, the Pinis, Dick Giordano, Denis Kitchen, Paul Levitz, and regular contributions from such note worthies as Ron Goulart, Howard Cruse, and--yup, you guessed it--ME!!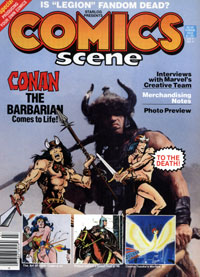 The material I managed to sneak into most of the eleven issues Bob ultimately presided over ranged from several full-page strips (like this one dealing with those oddly reoccurring Superman/JFK pairings) to a series of gag cartoons specifically meant to throw a little humor on what were ostensibly informative text pieces. Going through some of my old artwork the other day, I stumbled across just such a set of gag cartoons that I'd long ago concocted for one such article, and thought that maybe exhuming them from the drawers that they were hidden away in for decades now with the intention of posting them for all to see here might be a good idea. Or it may well not, but hey, it's too late to stop me now, so howsabout you all just go along with me on this, okay?...

Adorning a two page instructional piece by a clever writer named Beppe Sabatini entitled "How To Buy Your New Comics/How To Store Your Comics", eight of the following cartoons were used to humorously play off of Sabatini's "Dos" and "Don'ts" advice. Although written nicely enough by the one-time omnipresent letterhack, I opted not to reprint his potion of the article. Frankly, I'd completely forgotten what these drawings were meant to accompany when I rediscovered them, and they seemed to work well enough on their own, so I figured, hey, let Beppe get his own web-site if he wants to repost his prose! Me, I'm just gonna throw out these 1982-era illos from the fourth issue of COMICS SCENE magazine, the one with the photo of California's Governor on the cover, (that seems a peculiar choice, doesn't it?) (NOT for a cover subject, I mean, but for a Governor!!!...) and just let you folks enjoy then for all they're worth! Which may not be much, true, but hey--HOW much did you pay to get in here today, hmm?...

A couple of technical points: in an attempt to loosen up my rigid inking style and emulate the sketchiness often found in single panel gags, I used a crow quill pen to finish off these illustrations. Sometimes the art comes across as admirably loose, and at other times, unprofessionally sloppy! See if YOU can tell the difference, friends! Also, bear in mind that these were done back in the dark days before I finally learned the proper way to spell "tomorrow"! And for those of you scoring at home, you'll note that there are actually twelve illos to be found below this intro, meaning--ALERT THE MEDIA!!--four have never, ever been seen anywhere else before! While I suppose there's a very good reason for that (they ran out of space--yeah, that MUST'VE been it!...), we here at Hembeck.com have absolutely NO reason not to share them ALL with you! And just for the record, the previously unseen yucksters include the ones concerning baby brothers, Wilt Chamberlain, and the sole two-parter, revealing the sequence of events wherein the cranky, cigar-chomping corner newsstand clerk miraculously morphs into your friendly, neighborhood comics store owner!!

Okay, so maybe they didn't run these for reasons OTHER than lack of room...

COMICS SCENE lasted eleven issues in its original incarnation. After it was cancelled, editor Greenberger went over to DC Comics, where he's since had a long and thriving career. STARLOG regular Dave McDonnell took over the reins when, spurred on by the frenzy surrounding Tim Burton's first Batman film, COMICS SCENE reappeared on the nation's newsstands several years later in 1989. Including a few sporadic stops and starts, and more than a few special editions, the magazine blossomed during the nineties, notching over an additional sixty issues. However, this more accessible version of CS concentrated on the flourishing comics-to-film craze that dominates the big screen even to this day, filling out the rest of each issue with glossy pieces promoting the latest in mainstream adventure series. You know--super heroes?. All swell and good, but articles about comics fandom, how-to pieces covering every aspect of comics creating, underground comics, opinion rants on industry hot button topics, photos of creators on the cover, and regular contributions from such (apparently) not-worthies as Ron, Howard, and--yes--me, were now a thing of the past. Sniff.

COMICS SCENE is, I believe, currently dormant, but until it invariably rises again, Ras Al Ghul-like, here's a little taste of what it was like in its embryonic state. Y'know, back in the days before they figured out how to actually SELL the @#$%ing thing!?!...