Albany Comic Con 2
October 26th, 2008
(posted November 8th, 2008)

After driving a little over two hours, Lynn and I arrived around 11am in Albany, NY, the state's capitol, but, more importantly on this bright autumn Sunday morning, the location for John Belskis's second go at a capitol district area comics convention! I was among a truly distinguished array of guests, and the short of it is that this was likely the most fun in recent times that I've had a comics con that didn't have Jim Salicrup anywhere on the premises!!

Most of my fellow guests were old friends, as you'll see from the two dozen photos included directly below (most of which, I should duly note, were taken by my dutiful wife). It was a treat to see so many familiar faces, all the while making several new pals in the process. And of course, the fans were great! I chatted with 'em, I sketched for 'em, I sold books to 'em--what's not to love? With Ron Marz to my right and Joe Sinnott to my left, the day just zipped by!

My only complaint? There was this box of Dunkin' Donuts coffee intended for the guests perched right between Ron and I, y'see, which, even though I don't drink Java (I'm a Lipton tea man myself), was no biggie. No, what rankled me was the fact it took me over an hour to come to sober realization that there were no actual DONUTS in any of the various Dunkin' Donuts paraphernalia lying within mere inches of my grubby little grasp!! But I shouldn't be an ingrate and whine about such things--especially seeing as how John very generously took a bunch of us (18, I think) out for dinner afterwards! Truth is, I really don't NEED donuts--check the photos below for proof.

And speaking of photos, unfortunately, I put the camera away before getting any pics of another guest, Joe St. Pierre (or his brother Chris, for that matter). After the official festivities had come to a close, Joe came over to me as we guests milled around the emptying Holiday Inn, waiting for our host to complete some necessary business before taking us out for chow. He introduced himself and summarily informed me that he'd seen me once before long, long ago when I appeared locally at an early eighties FantaCon. Obviously, he must've been plenty young at the time. What sorta comics do YOU do, I politely inquired? A whole lotta stuff, it turns out, including Marvel and DC. Oh, and how LONG have you been in the field, I asked, unfamiliar as I was with this youngster, this newcomer?

Sixteen years.

D'oh!

Well, what else could I do but plead The Julie Clause? As in, once she was born 18 years ago, I lost that laser-like focus on the comics field I'd always maintained previously, even if I didn't totally realize it at the time? It's true (and luckily, he bought my story!). As it turned out, at dinner, Lynn and I were seated directly across from Joe and his gal pal Sonia, and they proved to be swell dining companions--and a little digging around afterward in my comics boxes downstairs provided irrefutable evidence of Mr. St. Pierre's pencil-pushing prowess as well! So, counting that delightful duo along with Evan and Vince--whose visuals you'll spy shortly--we made some brand new friends that day, and hey, how bad can that be?

Plus, we sold stuff!!

(But no donuts. Well, this is Albany after all, NOT Shangri-la...)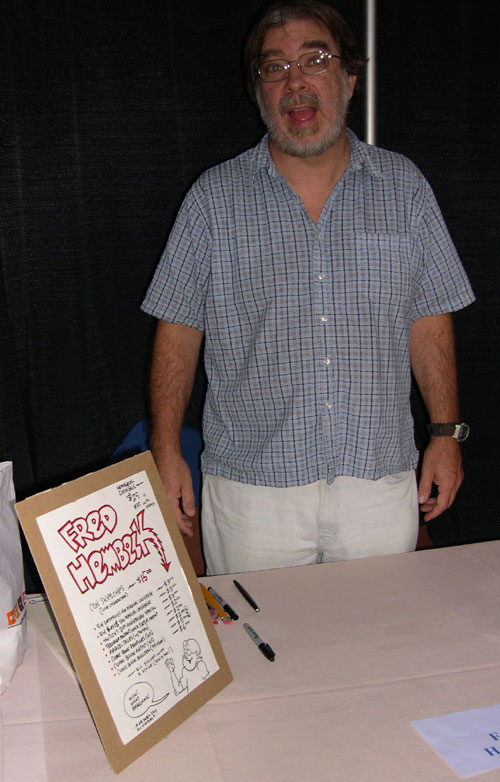 That's me, folks, ready for ANYTHING!! (Well, anything that generally happens at a comics convention, anyway..)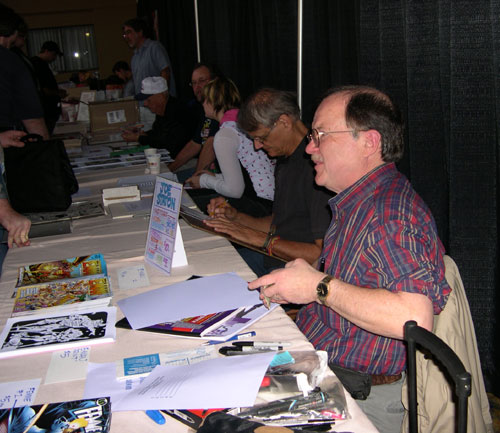 Caution: artists at work.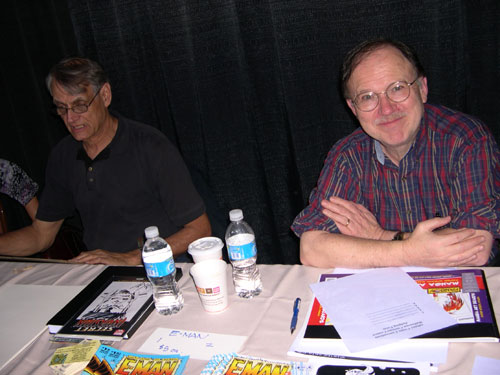 That's Smilin' Joe Staton alongside Humble Herb Trimpe.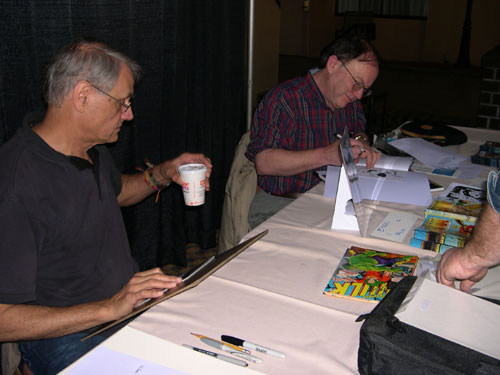 Herb demonstrates the fine art of drinking coffee while simultaneously drawing large hulking ne'er do wells as Joe the cartoonist continues sketching a mere few feet away from the scalding caffeine--hey, who SAYS this ain't a dangerous job?....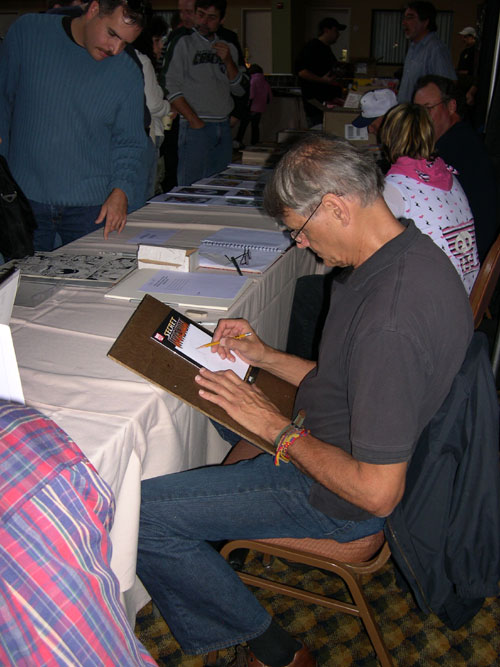 As you can see, we've got ALL the angles covered here at Hembeck.com!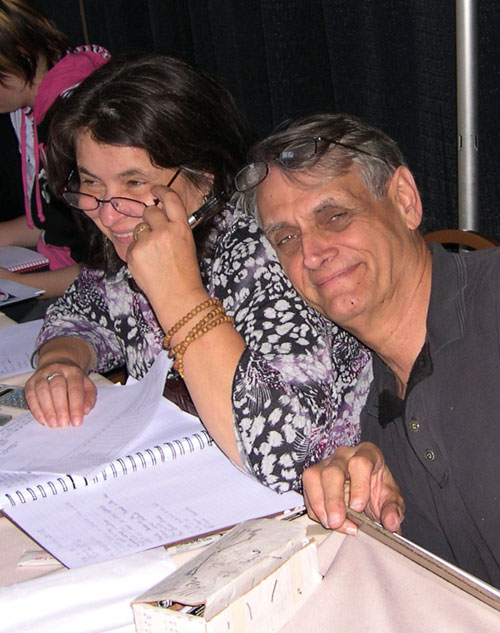 Herb and Patricia, Mrs. Trimpe.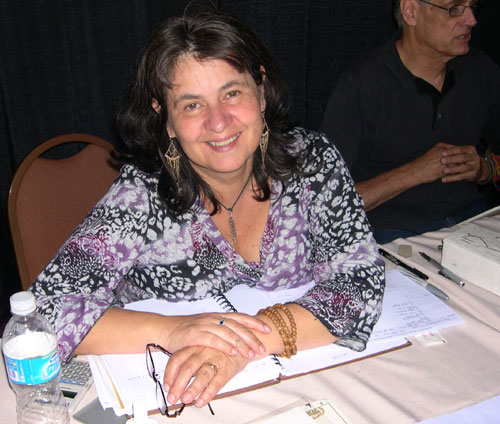 Small world department: Patricia attempted to teach Julie the intricacies of the Spanish lingo during our daughter's high school tenure, while--somewhat earlier--her hubby taught ME the potential dangers of hanging with gamma-irradiated individuals during MY high school years!! Aye carumba--whoda thot?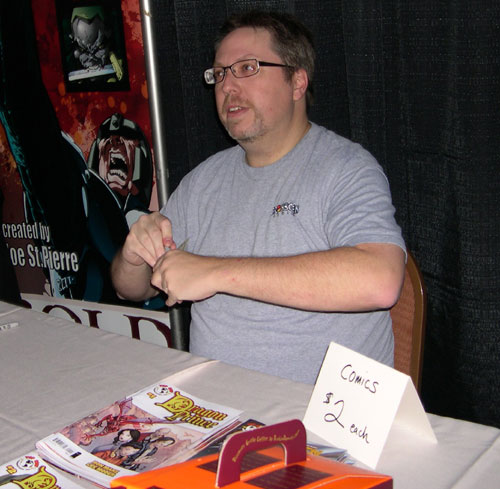 My old buddy, Ron Marz, a man whose amazing career has found him working with the likes of Jim Starlin, Bernie Wrightson, Peter David, Fred Hembeck, and Deepak Chopra!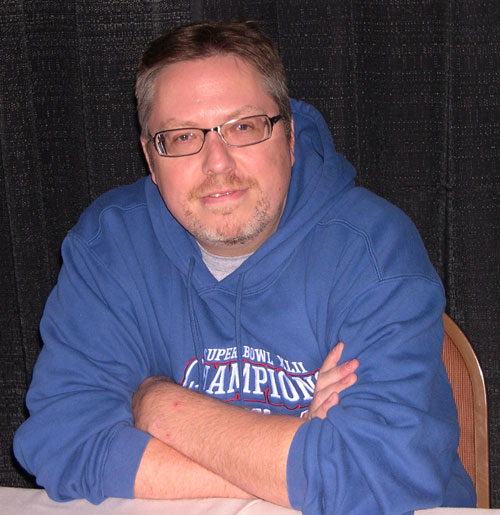 "Yeah, and my old pal Deepak tells me he's gonna get my new Top Cow series, "Dragon Prince" the seal of approval from Oprah's Book Club--how's YOUR book doing, wiseguy?...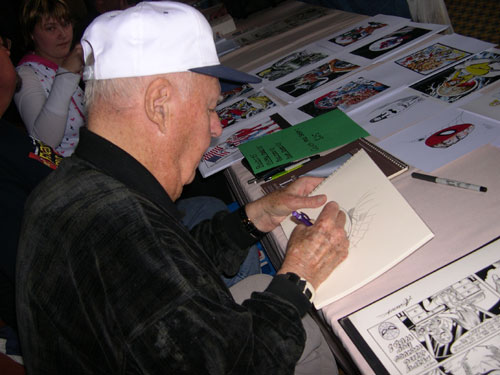 Joe Sinnott--still joltin' after all these years!!!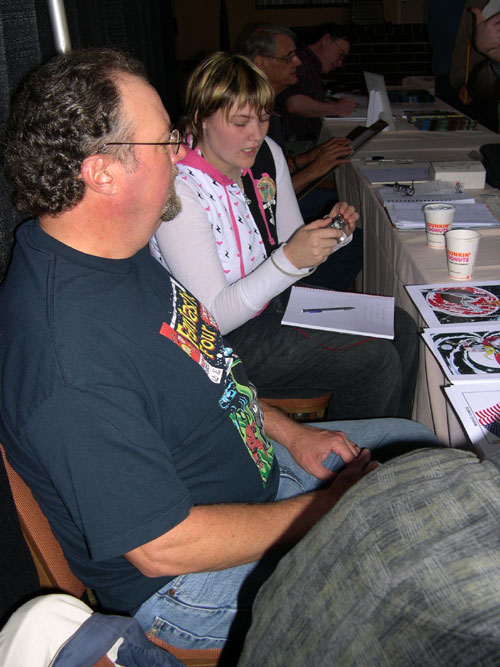 Joe's son, Mark, and granddaughter, Erin--who constitute only a teeny tiny percentage of the Sinnotts currently situated in Saugerties NY!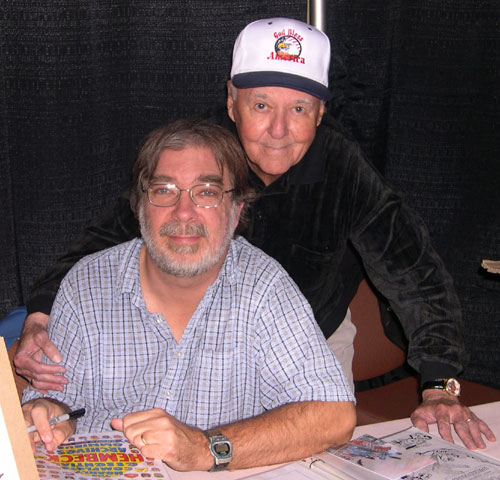 Seriously folks, it's an honor on so many levels to have such a delightful man--a true legend, even OUTSIDE of Saugerties!--call me friend! And y'know, Joe didn't even have to force that smile--gosh, whatta guy!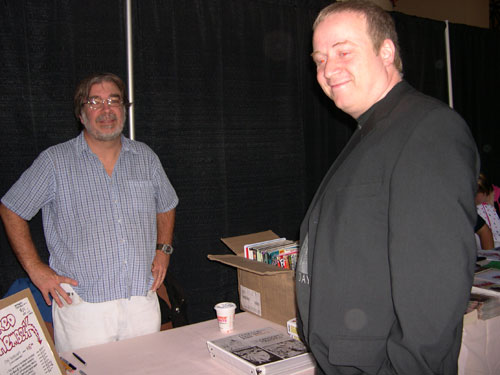 Yup, it's me and young Bill Anderson! As I've mentioned on several past occasions, I first met Bill while living in nearby Troy, myself a grizzled old cartoonist in my late twenties, he a tween artistic prodigy, so he'll ALWAYS be a kid to me!! (Whereas I no doubt begin to look more and more like Gabby Hayes to him--and most everyone else--each and every day!...)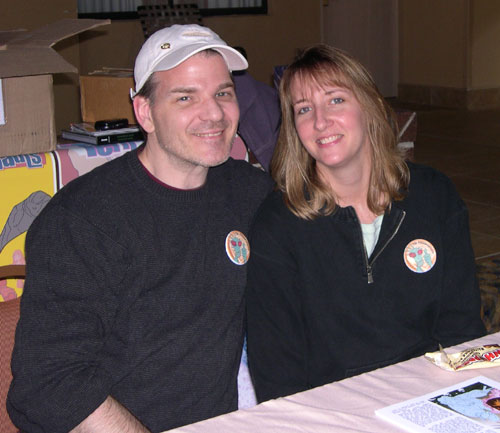 "Perhapanauts" scribe--and long-time chum--Todd Dezago and his lady friend, the lovely Sharon.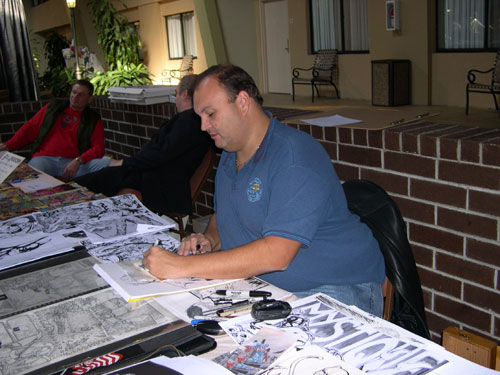 John Hebert, busily doodling away.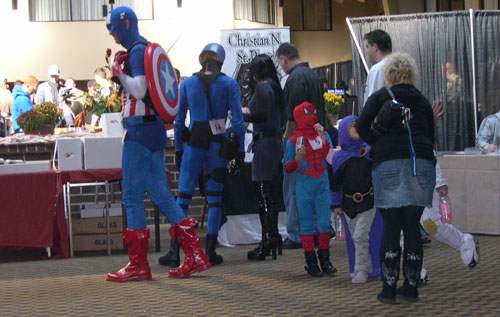 Yes, there WAS a costume contest! Even with Halloween less than a week away at the time, most folks generally don't dress like this when they leave the house!
(Do they?....)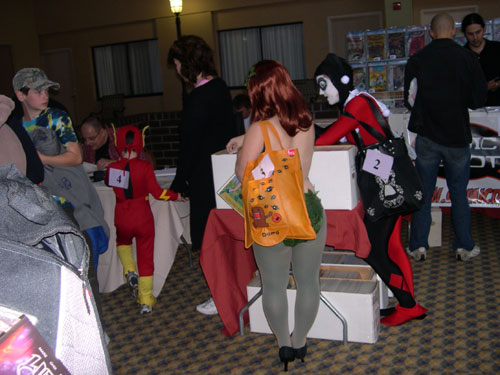 The contestants were numbered for easier judging, but somehow, I missed out on the details and never did find out who won...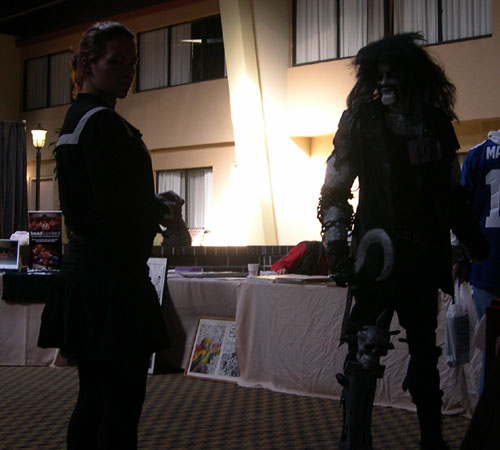 Probably this guy, though...
(And yes, it DID say "Bite me, fanboys!" on the back of his jacket.)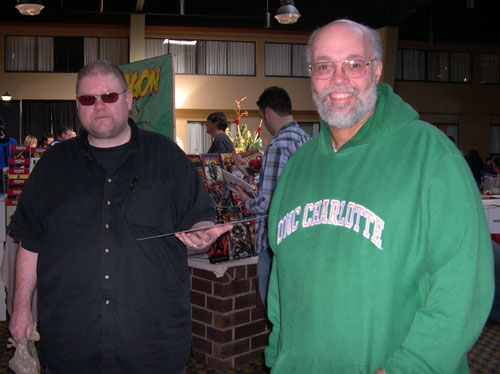 Albany's own Alan David Doane (who wrote about the convention on his blog here, and posted photos here) standing alongside Fantaco Enterprises alumnus Roger Green.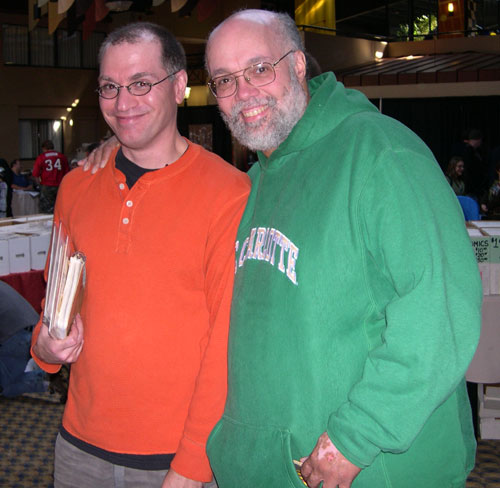 Another erstwhile Fantaco employee, Rocco Nigro, tells Roger about The Great Pumpkin.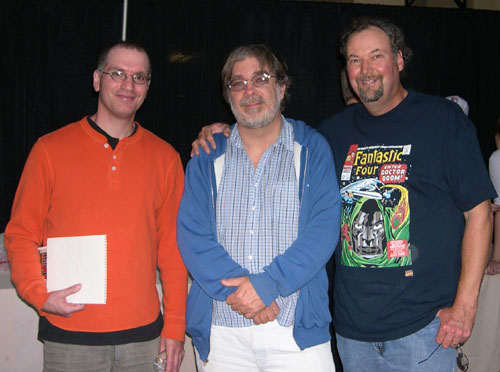 Hey, Mark, I own that exact same tee shirt! Too bad I left it home with my comb....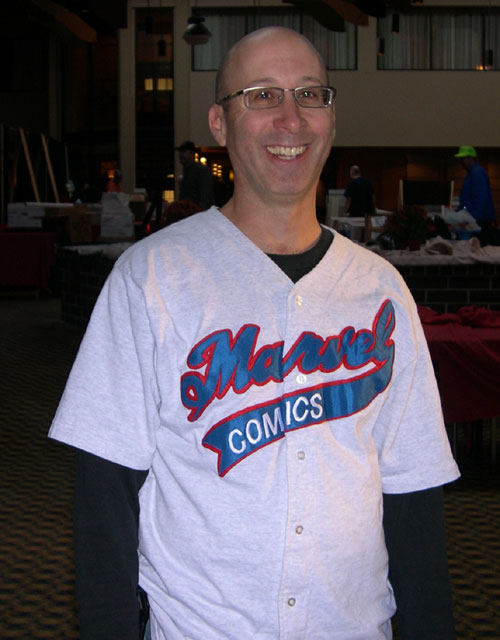 Evan Skolnick, whose fruitful and varied career at Marvel Comics in the not too distant past included as not the least of his many accomplishments adding the hues to one of my "Spider-Ham" stories!

(Okay, maybe it WAS the least...)




Standing in front of Bill Anderson and several random Sinnotts is my new hero, Vince Deporter. Vince, y'see, was among the very first folks in the whole wide world to view the original SpongeBob SquarePants cartoon, which he did so as to determine whether or not to take on the assignment of drawing the then totally unknown character in comic strips for inclusion in "Nickelodeon Magazine"! No fool he, Vince enthusiastically agreed upon his first look!
Ah, to be witness to history--ain't it grand?...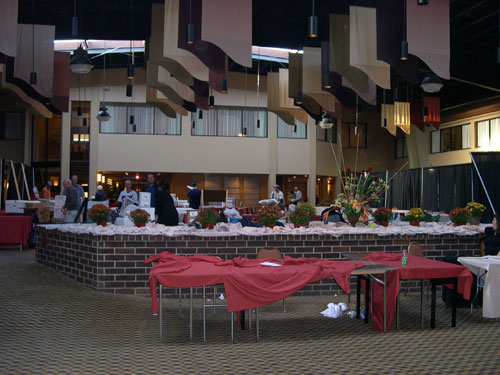 Closing time at the Holiday Inn! See you all next go-round!! Thanks John--it was a treat!!