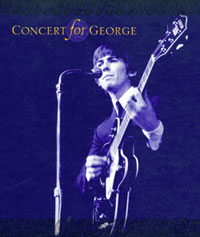 It's been two years since, sadly, we last lost a Beatle.

When word came that George Harrison had succumbed, there wasn't the sense of shock that accompanied John Lennon's brutally inexplicable slaying nearly 21 years earlier. No, we all knew that the guitarist had been in failing health for quite some time up to that point. Still, it's tough to let go of a legend, thus making the finality of his passing jarring nonetheless.
Lynn heard the news first. When she told me, my immediate reaction was, "Aw, that's a shame, but not a surprise... " Still, that wasn't the headline I wanted to awaken to that particularly gloomy November morn. Naturally, bouts of inevitable sadness and unheeded personal reflection followed as the morning wore on. Oddly, the thing I'll always remember about that day was that Harrison's death gave us, as a people, the first real opportunity to take a much-needed breather from the then freshly declared War on Terror.

Coming as it did only two-and-a-half months after the September 11th attacks, the news that the spiritual Beatle had died was the first major story--other than repercussions from the horrific destruction wreaked on America that infamously dark day--to wrest center stage away from non-stop War reports found on the three 24 hour cable news networks. I know this firsthand, as I fell into the habit of turning on one of the three outlets--usually, MSNBC--when I first got up each day, leaving it tuned in as I sat at the drawing board, hoping NOT to hear anything too upsetting in those jumpiest of days, fresh in the wake of 9/11--but not wanting to MISS anything, either. For six weeks, there WAS no other news, apparently. And then, George left us...

Quickly dispensing with the obviously sad aspect of his obituary, as the day went on, the focus turned towards the celebratory, with Harrison's contribution to society--and the Beatle's in general--being roundly and near unanimously applauded. Somehow, in the midst of all this world-wide psychic strife, the news that the man who had so famously authored "All Things Must Pass" himself had indeed passed, provided his multitude of admirers, after a moment of initial grief, a much-needed sense of peace, and the memory of all it's myriad--if unfulfilled--possibilities.

Even Julie, who enjoys playfully provoking me with disparaging comments directed at the Four Fabs knew better than to say anything to diminish the mournful events of that particular day. Guess there's hope for her yet...

And now, the star-studded musical memorial from last November, the aptly titled "Concert For George", is available on both DVD and CD. If all goes as planned, I'll take a few hours and watch it tonight. While I'm sorry that there ever came a need to stage such an event, I'm thankful it was preserved for posterity.

We miss you, mate...