Hey Look!! Who's that screwball throwing that screwball?

The Day I Threw Out The First Pitch At A BLUE CLAWS Game!!
by Fred Hembeck


On Sunday, July 11th, 2010, I had the rare privilege of throwing out the ceremonial first pitch at a Blue Claws baseball game, a single "A" minor league franchise affiliated with the Philadelphia Phillies located in Lakewood, New Jersey. Inasmuch as I've been a baseball fan since 1966, this unexpected opportunity was quite a thrill. How it all came to be and how events ultimately transpired, well, THAT'S what we're here to talk about!...

It all began with one of those unsolicited emails that turn up on occasion, offering work. This time around, it was from a fellow named Christopher Hill. He had previously produced some specialized covers for several minor league team publications in conjunction with Marvel Comics a few seasons back, and now, under the aegis of his own Enigmatic Concepts firm, he was giving it another go (sans the Marvel tie-in) and was wondering if I'd be interested in joining his roster of artists. Well, sure--so I sent him scans of requested samples to show potential clients.

And then, several months of radio silence. Ah well, nothing surprising there--it wouldn't be the first time I'd been approached with some nifty gig, only to see it eventually evaporate as if it never happened.

But just as I'd almost forgotten his initial overtures, I got word that the Lakewood Blue Claws wanted to enlist me to illustrate their cover (the interior 12 page story--sponsored by the ALS Foundation--would be written by Christopher himself and drawn by John Watson, sandwiched between 13 different--and team appropriate--covers). But not only did they want my drawing, they wanted ME!! Do the cover, throw out the first pitch, sign some copies during the game, all expenses paid!!

Sometimes those unsolicited emails really pay off!!

The only hitch?Promotions Director Hal Hansen figured that, as it was the stadium's 10th Anniversary, it'd be fun to include all the various notables who'd appeared within the edifice's walls--all thirty plus of 'em!! This gave me pause. After all, when it comes to caricatures, I'm more Mort Weisinger than I am Mort Drucker--but hey, no way I was turning THIS job down!! True, even the mothers of a handful of baseball notables would likely find my versions of their baby boys unrecognizable (though at least each had distinguishable uniforms), but the rest of the group was made up of foam headed mascots, animated characters, human-but-cartoonish wrestlers, and two old friends, Superman and Spider-Man. (Oh, and Bruce Springsteen. No, he never played a concert at the venue, but he once brought his teen-age son to the stadium as a birthday treat, which not only qualified the Jersey icon for inclusion on my cover, but for a yearly tribute night as well!!).

After going over the multitude of references Hal sent me via Chris, I came up with the rough below. I sent off a scan for their approval...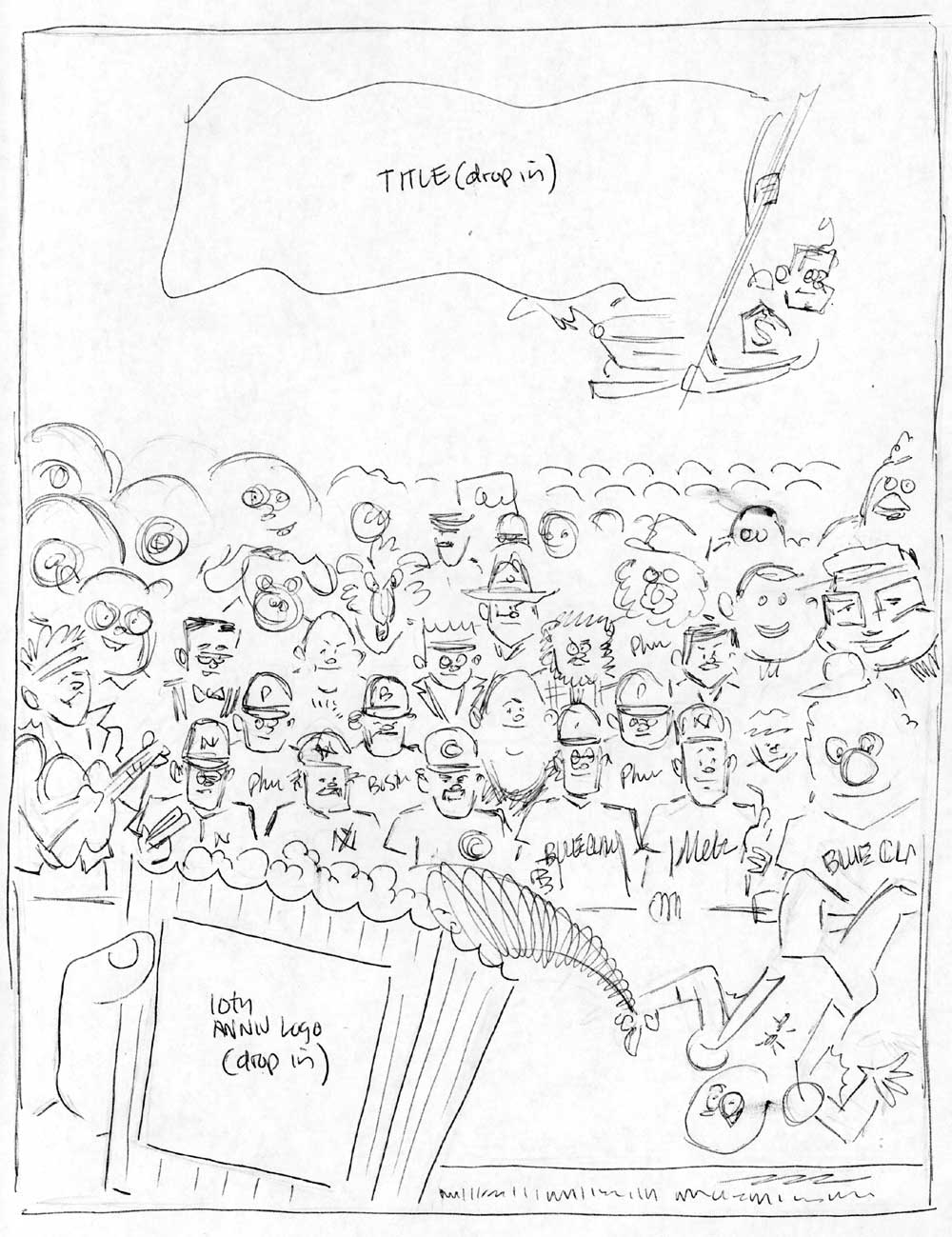 ..which I got.

So, I planned out the various placement of my cast, keeping the color scheme in mind, and sent off this finished rough in hopes of a thumbs up...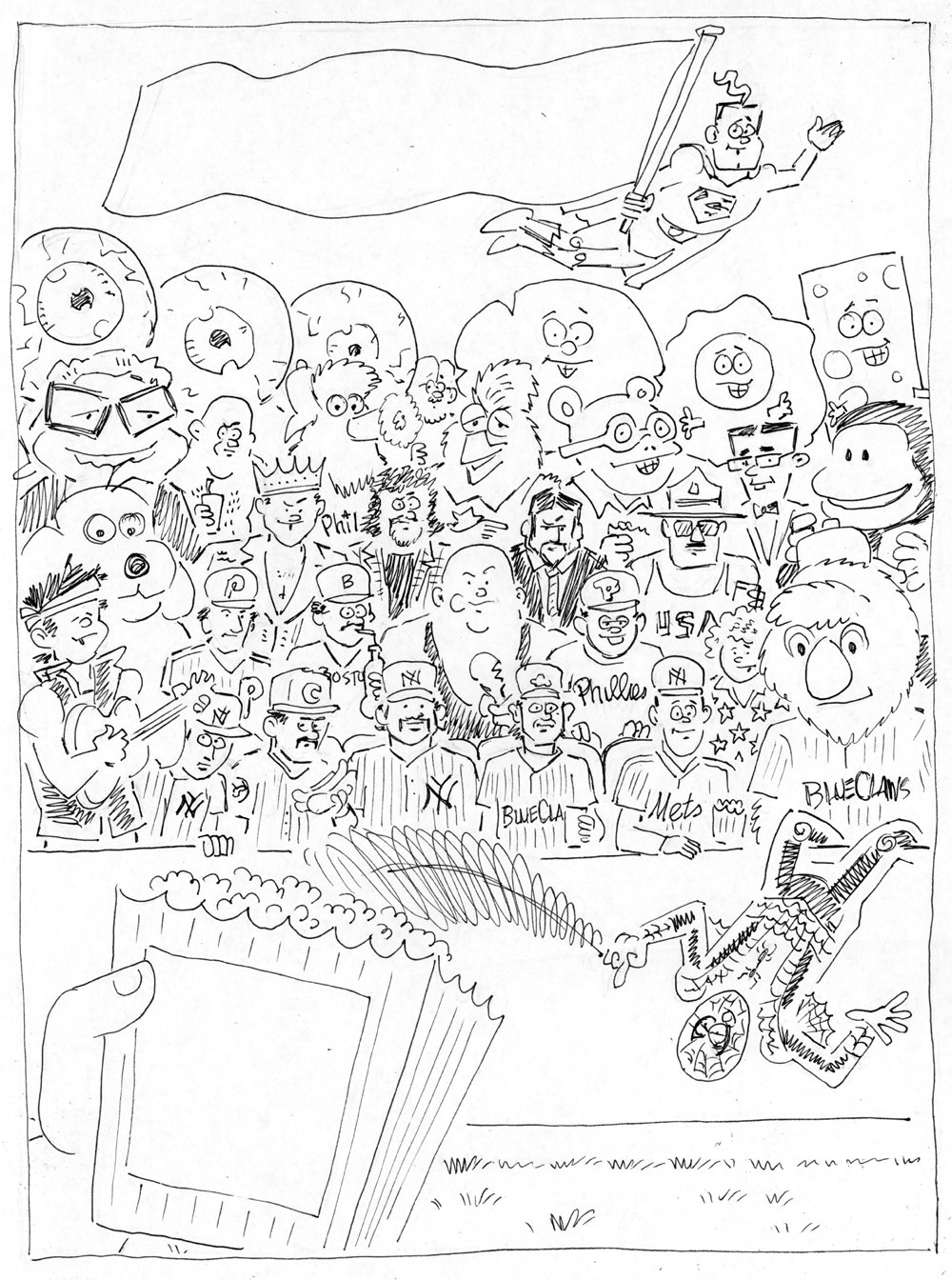 ... which I also got.

So I pencilled up a final version, broke out my set of trusty rapidographs and inked it to completion...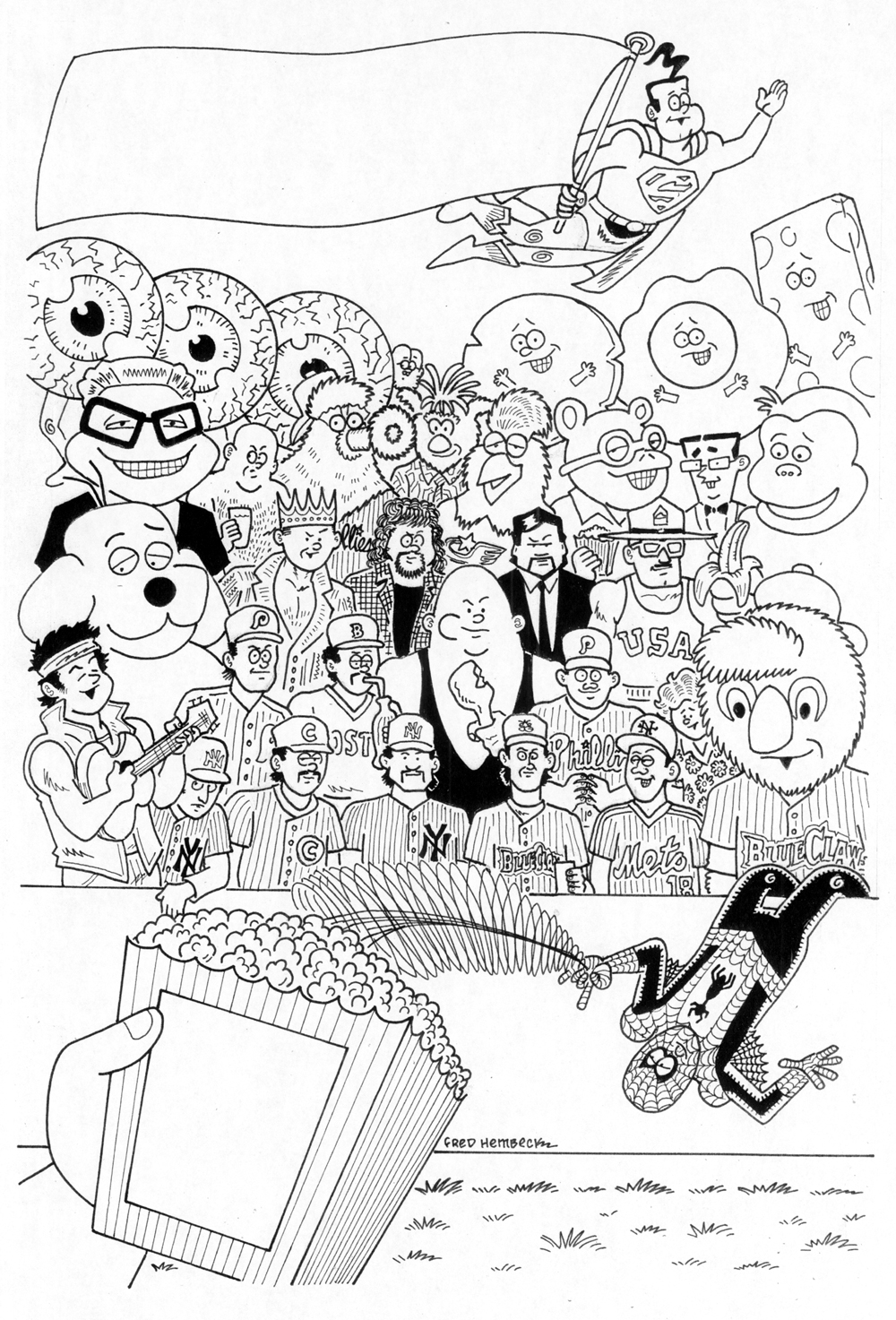 All that was left was to color the piece.

Me, I write 'em, I pencil 'em, I ink 'em, I letter 'em, I even staple 'em, but color 'em? Never felt comfortable providing that aspect of comics-making, so when Christopher Hill asked me who I'd like to add the hues to my lines, i immediately thought of someone who'd done such a tremendous job on a two-page Captain America strip I did for Marvel last year, Chris Giarrusso! Of course, Chris is far more than merely a superior colorist--he's a tremendous cartoonist in his own right. His G-MAN series is just wonderful, and comes highly recommended from these quarters! I fully anticipated that having such a talented gent bring my lines on paper to full technicolor life would be a total delight, and I'm happy to say, I was right on the mark with THAT prediction!....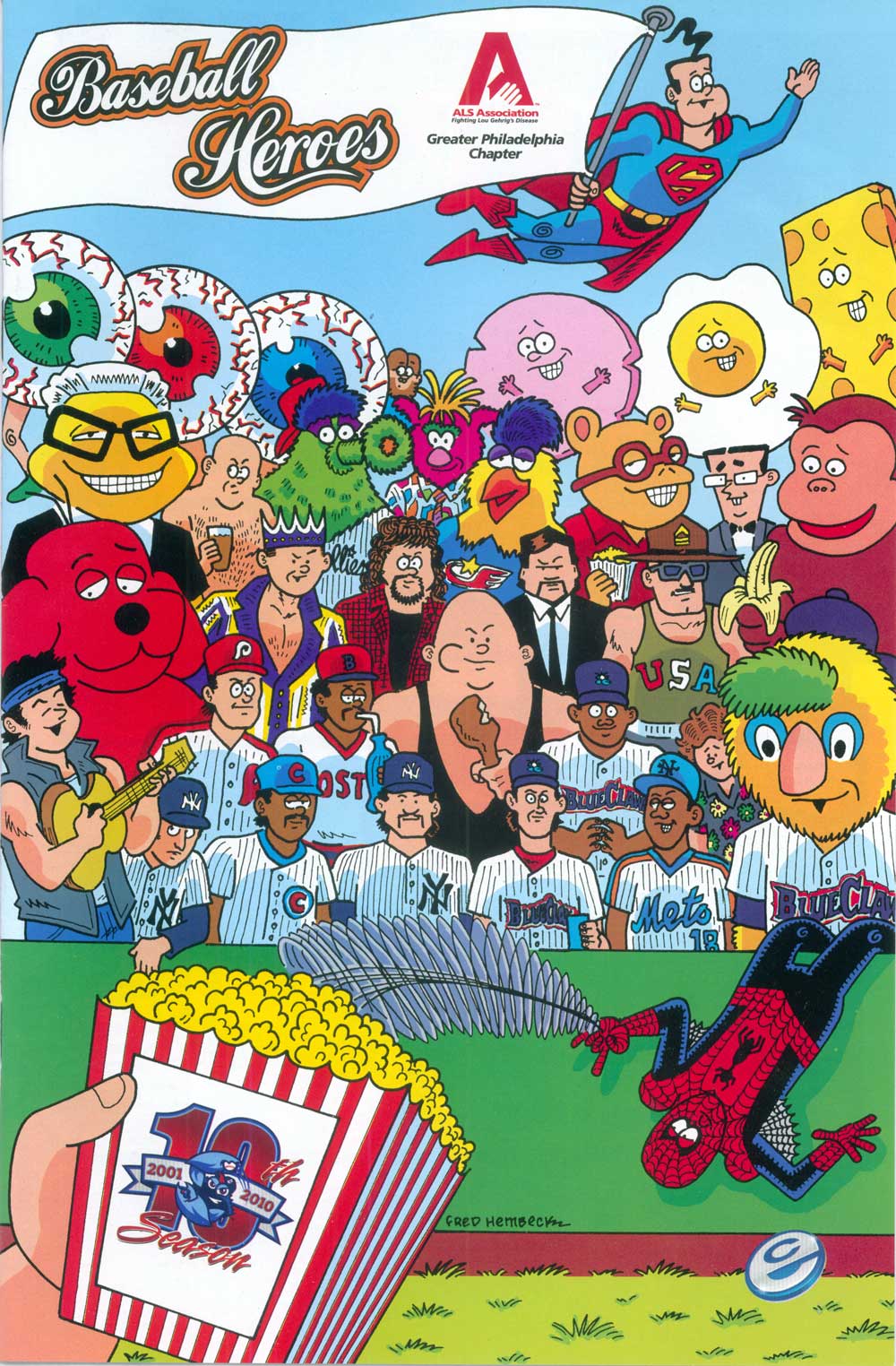 Okay, so just WHO exactly are all these folks?

Front row, left to right: Bruuuuuce, New York Yankee third basema Graig Nettles, Chicago Cub Andre Dawson, Yankee reliever Goose Gossage, Blue Claw (and current Phillie pitching ace) Cole Hamels, New York Met Darryl Strawberry, Blue Claws mascot Buster, Spider-Man.

Second row: Clifford, Philly legend Steve Carlton, Boston Red Sox icon Jim Rice, wrestler King Kong Bundy (with portion of unidentified turkey), Blue Claws alumni--and Philly slugger--Ryan Howard, Chunk from "Goonies".

Third row: wrestlers Jerry Lawler, Mick Foley, Ted DibIase, Sgt. Slaughter, and non-wrestler Curious George.

Fourth row: Harry Canary (based on the late legendary announcer Harry Carey), wrestler George Steele, well-known mascot Phillie Phanatic, not-so-well known mascots Reggie and Famous Chicken, Arthur, Myron Noodleman(...who?...).

Back row: the eyeballs and porkroll, ham, and eggs, who regularly participate in between inning races. Really--I saw 'em. Oh, and yours truly (hey--I appeared at the park! I'm entitled!)

And look! Up in the sky! It's, well, YOU know!...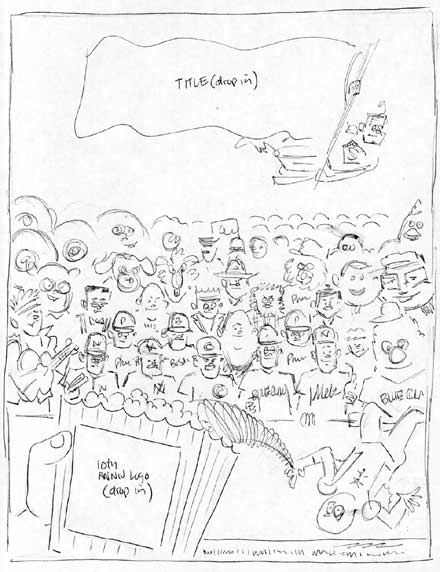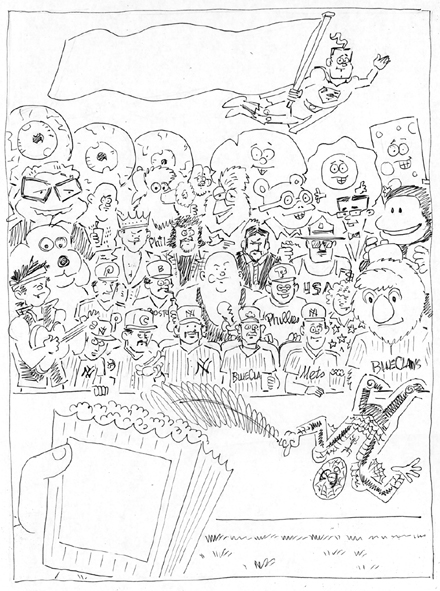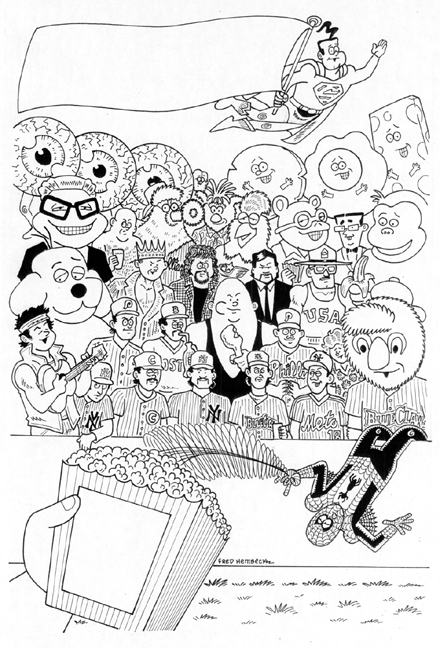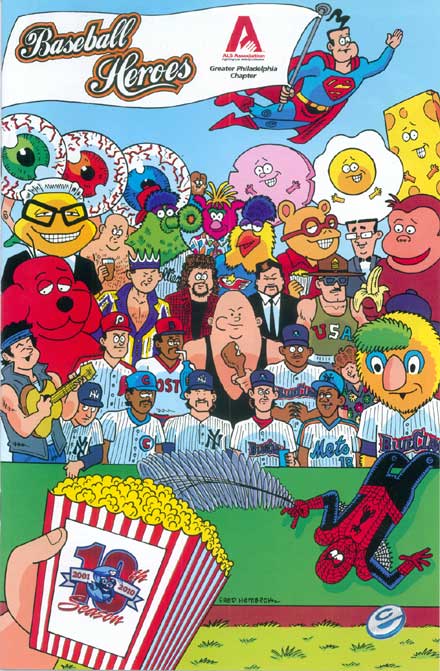 But what about the big pitch?

Well, that had me tad bit concerned. It'd been nearly two full decades since I last picked up a baseball. Oh, I was pretty decent back in the day, at least as long I was just playing a pick-up game among friends. It was the only sport I ever showed any facility or enthusiasm for. But people get rusty after all--and older, too. I don't even own a glove anymore. I decided it best to practice a little, so I rustled up an old ball and took daughter Julie down to a nearby park to toss a few. We counted off an approximate 60 feet 6 inches--the distance the pitcher's mound from home plate--and I threw a few. Happily, they easily traveled the distance, and I went back home with a modicum of confidence.

I had planned to particpate in a few more warm-up sessions, but a nasty heat wave put the kibosh on that notion, and so, a little before noon on the 11th, Lynn, Julie and I set out for our New Jersey destination. The trip took nearly three hours, and I asked the missus to drive, as I was admittedly getting a wee bit nervous as the big moment approached. We arrived at the hotel room the team graciously provided us about an hour before I was expected at the park, giving me some much needed time to catch my breath from the trip. We soon made our way over to the stadium and met with Hal Hansen, who couldn't have been more helpful. At about 4:45--fifteen minutes before game time--he escorted Julie and I out onto the field, while Lynn watched from our seats directly behind home plate.

My nervousness was almost entirely gone by now, as I suddenly realized two things: the stands were only starting to fill up, so the crowd was minimal; and I was actually one of NINE folks tossing out the ceremonial first pitch that day!!

Turns out you can PAY for the privilege, as was the case with the first five folks to get their turn in front of the pitcher's mound (I assume they kept us off the rubber so as not to have amateurs mess us the carefully coiffed mound for the professionals that were soon slated to follow...). Hal's group--my group--followed, and first up was fellow representing a block of three hundred plus patrons attending the game this afternoon. They announced my name instead of his by mistake, and though they corrected their mistake, maybe that shook him somewhat, as he threw it high and wide. Next up was a four-year old kid. Not sure what his story was, but I knew I'd be able to beat HIS feeble throw! Hah!

Then it was my turn.

Don't bounce it! Don't throw it so wide as to make the catcher dive for it!

Don't...screw... this..up!!

I took a deep breath, and threw the ball. I think I may've caught the outside corner for a strike, but most importantly, it WASN'T a bad throw.

And it took all of four seconds. I know this to be a fact because Julie taped it, and that's how long it takes to watch. Too bad she didn't have multiple camera angles to catch my location, but I guess you'll just have to take my word for it....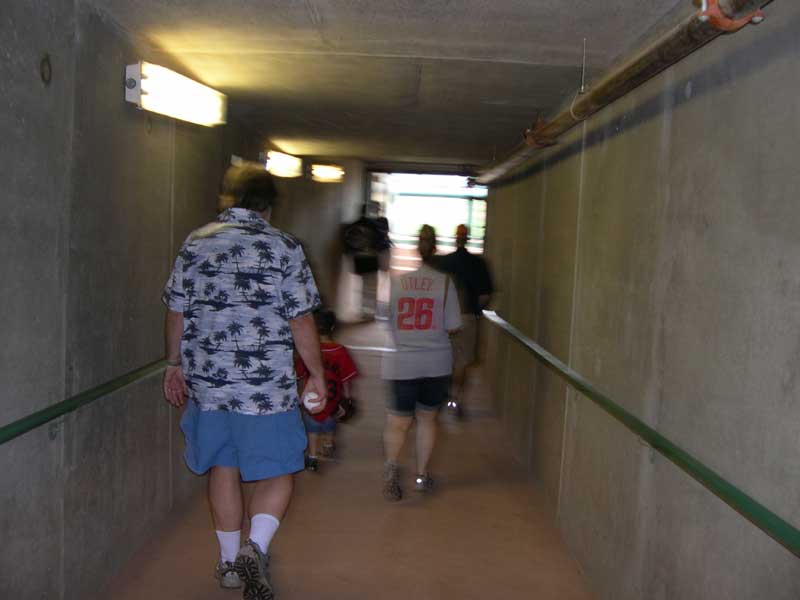 Walking the tunnel out onto the field, just like the pros!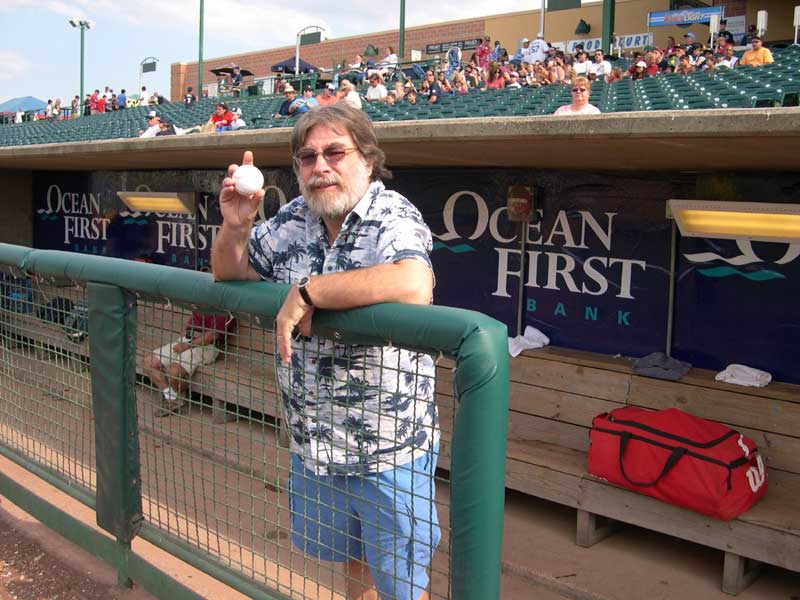 In the dugout, faking confidence..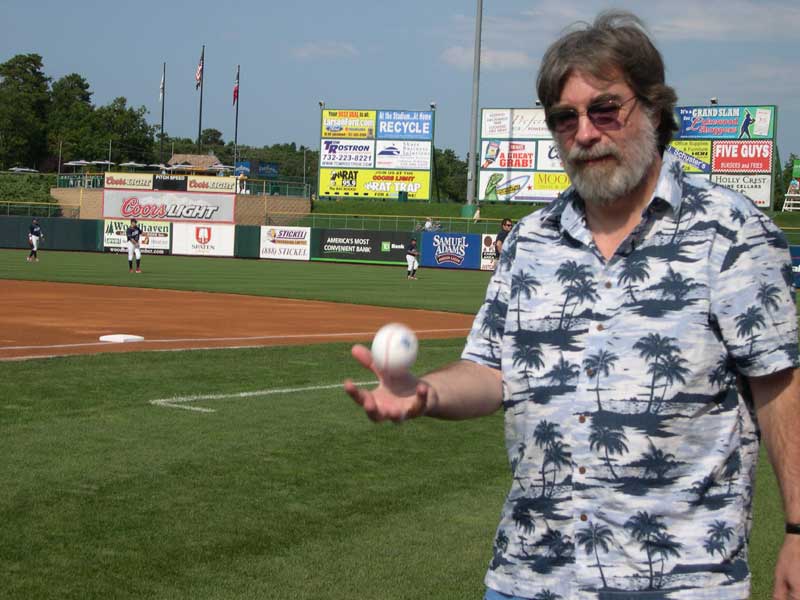 Have you ever seen my levitation trick? I can't recall if it was taught to me by an ancient Himalayan priest--or maybe it's just something that's indigenous to New Jersey?....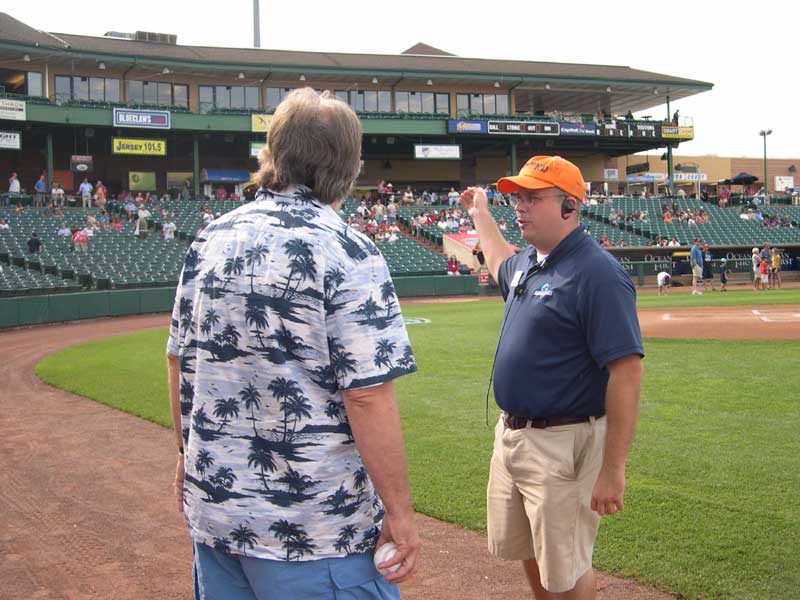 Taking my instructions from Hal Hansen: ""Home plate is in THIS direction, Fred..."


The video is on my Facebook page (and soon, maybe YouTube, too) Four seconds of your life you'll never get back and four seconds of mine I'll never forget!!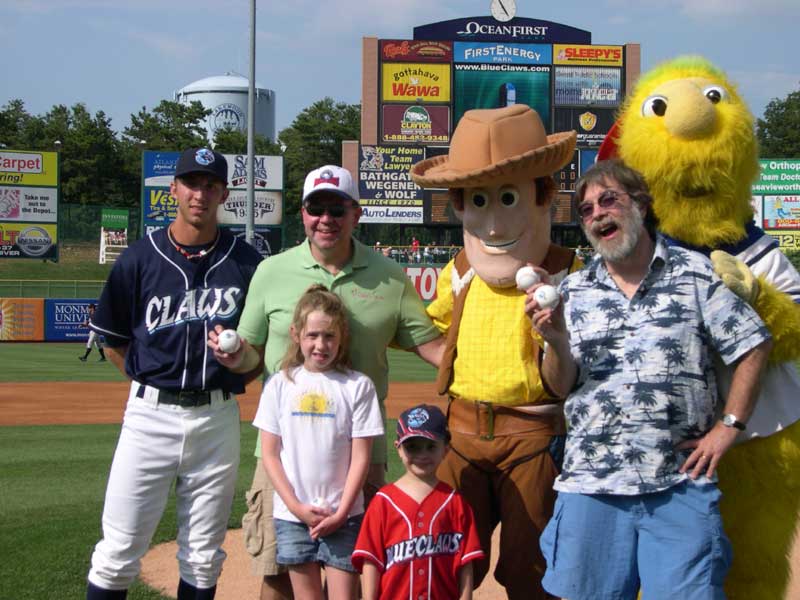 Did I mention that MY pitch was followed up by a fellow in a Woody outfit (seen here comparing balls with fellow cowboy star, Gabby Hayes)? That's my little group--I never did get the name of the Blue Claw player on the receiving end of my pitch. Wonder if he'll become a big star someday?...

They let me keep the ball, and set me up at a table near the souvenir shop to sign copies of the comic. I probably signed a couple hundred, and even encountered a half dozen folks who actually knew who I was! Best of all was the fellow who came by--twice!!--to tell me how impressed he was with my pitch!! Rare praise I won't soon forget!!

I didn't sit there the entire time--I took in about half the game (which, unfortunately, the home team lost)--and enjoyed some complimentary stadium grub. All in all, a wonderful experience--even if a foul ball came THIS close to clocking Hal in the noggin as he stood by my table chatting!!

The next day, taking advantage of our surroundings, we stopped off on the way home and spent three hours on a Jersey shore beach. It was another scorcher, and the waves were as rough as I've ever seen 'em--there were at least three (successful) rescues by the lifeguards nearby in the short time we were there--none of us, happily! It made for a nice icing on our trip.

So, thanks to Chris Giarrusso for his fine color work, to Christopher Hill for contacting me in the first place, and to Hal Hansen and the Blue Claws for choosing me and having me as their guest--best freelance job EVER!!

Oh, and fellas? Maybe NEXT year I can sing the national anthem?...