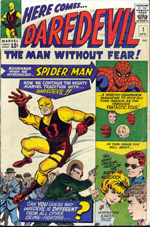 Buying and reading the first issue of DAREDEVIL, the last great character hatched during Marvel's initial salvo on the comics medium, remains the SECOND warmest memory I have from that extraordinary month of February, 1964. The first? Well, here's a clue--it had something to do with a really, REALLY big shoe, and several unkempt musicians, but hey, we're here to talk comics, aren't we?
This is one of those rare books that I can vividly recall reading for the first time. Probably the anticipation drummed up in the other Marvel titles had a lot to do with this lasting impression DD #1 had on me. That, plus the art by the totally-unknown-to-me Bill Everett. Stan identified him in pre-release publicity as an important practitioner during the mythical (again, to me) Golden Age of Comics some years earlier. Having been properly stoked, I was looking forward tremendously to viewing the work of this titan from comics' past, and when DAREDEVIL #1 finally hit the newsstands, well, let's just say I wasn't disappointed!! His unique artwork, especially the lush inking style, had a look that was at once simultaneously antiquated and appealing to my 11-year-old eyes. In particular, I loved the way he drew the star of the book sporting a smile in most every situation, and I've always been one who preferred the short-lived red and yellow outfit Everett gave the battling barrister to the later modifications Wally Wood made. Pure nostalgia, I suppose, as the totally crimson get-up makes more sense. Still...

It wasn't until decades later that I learned that Selfless Steve Ditko was called upon at the last possible moment to quickly add backgrounds to a host of panels left unfinished by the unfortunately unreliable Mr. Everett, returning briefly to the field after a number of years spent toiling in advertising. And despite the fact that I firmly believe that Jack Kirby supplied, at minimum, the layout for the major portion of DD's debut issue's cover, it was the illustrations by Sub-Mariner's creator that had totally enchanted me. Two months later, when Marvel released DAREDEVIL #2, I felt sadly cheated when Wild Bill turned up missing, but going AWOL solidified a particular mystique around Everett's sole contribution to the Marvel Age of Comics for me. At least it did until he returned on more-or-less permanent basis two years later. Still, when you're a kid, two years can seem like an eternity, and for that specific little eternity, the legend of Bill Everett as the Great Lost Marvel Artist grew exponentially in my mind. Then he went and spoiled my idealized fantasy version of him by hooking up with Stan Lees' gang again. Somehow, his work on the Hulk, Dr. Strange, and, ultimately, his old pal Namor, failed to match his take on the blind lawyer turned superhero, at least in my noggin. But while later events knocked Everett off the lofty pedestal I'd placed him on, we'd always have DAREDEVIL #1, and that's more than enough!...

Now, more than a handful of the kudos should be directed towards Smilin' Stan Lee, as his well-crafted origin tale has truly stood the test of time. Fact is, a lot of stuff from way back in '64 has held up surprisingly well… With the scenario dreamt up by Marvel's head honcho serving as a solid backbone for a current, money-making big-screen adaptation of ol' Hornhead's adventures, it's got movie executives singing "Yeah Yeah Yeah!!" And you KNOW that can't be bad!...