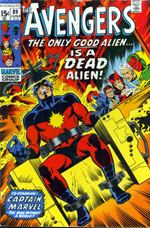 Sal Buscema was no Frank Stallone!!

Oh, sure, it couldn't have been easy toiling in the same field older brother John dominated for so long a period of time, but I'm here to say a few good words about the junior Buscema sibling. There was a time I may've not been so kind, but we'll get to that later...

There's no denying that John Buscema's draftsmanship was all but flawless and his storytelling ability effortlessly appropriate for whatever he was called upon to illustrate. He was, simply, really, REALLY good. But, talented as he was, there were times when he looked as if he were phoning it in. Technique--at the highest level. Passion--bubbling in at a somewhat lower level. Now the kid wasn't blessed with quite the same level of raw ability, but what he lacked in his hands he more than made up for in using his head.

Oh, that wasn't ALWAYS the case. Marvel abused his capabilities for most of the seventies by mercilessly overworking poor Sal. Apparently, he was fast and obviously had a solid grasp of clear, concise storytelling, and his employers had him churn out far more pages than he should've (they pulled this on John, too, but, rushed or not, his material just naturally looked swell). Like fellow page slave, Don Heck, this was the time period when Sal Buscema "earned" his bad rap amongst fans. I know I groaned at the prospect of reading yet a fifth or sixth book hastily laid out by Sal during that decade of Marvel's rapid growth. But then the eighties came along...

When Sal Buscema slowed the pace down to one, maybe two titles a month, his work was a revelation. He proved to be a very intelligent cartoonist, inventively yet clearly composing a page, and, especially when inking his own pencils, producing strikingly effective comic art. No disrespect towards the legendary John, but in recent years I've come to prefer Sal when it comes to Buscemas...

This cover--an early entry in the fabled Kree-Skrull War Saga--dates from way back in '71. The avalanche of assignments would come a bit later for the younger Buscema. Still a comparative newcomer when he did this job, all his strengths are on display with this powerful composition. The man definitely deserves your respect, far more than, say, Frank Stallone does! In fact, anybody out there see "Judge Dredd"? Why don't we just make a complete sweep of things and drop Sylvester way down that list as well, hmm?...